Home

>

Apps

>

Groups

>
Bing Search Engine Starts Loving Mobile Friendly, Responsive Web Sites
Question asked by Kaustubh Katdare in #SEO on May 15, 2015
Mobile phones and tablets have taken over desktops and laptops as the primary devices to browse the Internet and access your favourite websites. The search engine giant, Google already announced that it'll be using 'mobile friendliness' as a ranking signal (with over 200 others) to list the websites in search results. Google's rival, Microsoft's Bing search engine too has announced that they have changed their approach towards mobile-friendly search. Bing will prefer ranking mobile friendly websites higher when search is performed from a mobile device.
In the official
blog entry
, Microsoft's Shyam Jayasankar informs that mobile searches continue to search ahead and the overall percentage of mobile based search queries is higher than ever before. The engineering team at Bing has been investigating various approaches to enhance the mobile search experience on Bing search engine. Going forward, Bing search results displayed on mobile device will now include 'Mobile-friendly' tag to inform the user that the website has been optimised for mobile viewing.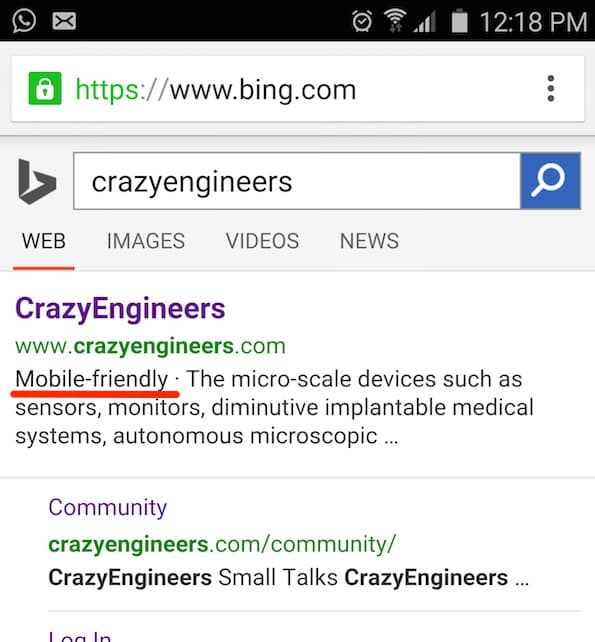 CrazyEngineers.com tagged as 'Mobile-friendly' by Bing.com
​
Bing will also use mobile friendliness as a ranking signal, requiring the webmasters to make their websites easily viewable and usable on small screen devices. Jayasankar also lists various factors that determine the overall mobile friendliness of any website. These include a well placed site - navigation, readability of content, scrolling (horizontal scrolling is discouraged), compatibility of the content with the device (if your website shows videos, they better run on mobile devices) etc.
Microsoft Bing and Google's love towards mobile friendly websites clearly indicates at the trend the web is currently experiencing. If you are a webmaster responsible for a website - you should make your website responsive and accessible from smartphones and tablets.
What do our readers feel about this move?
Posted in:
#SEO
Not only bing, every search engine out there will start improving their algorithms to improve user experience. Google will roll out more new updates, right now I could see some sites that may be slow in load times are marked with a caution like symbol with yellow background with ! mark. So it is clear that more updates focusing on mobile friendliness will be rolled out soon.