From the Archives
Archived discussions on CrazyEngineers
@Chinmay Joshi • 28 Mar, 2014
Airtel Digital TV has launched its latest mobile application called "Airtel Pocket TV" for its digital TV subscribers which allows users to watch their favorite programs or channels while on the move. The company assures to provide more than 150 live TV channels and more than 10,000 hours of video contents and can watch past episodes on 13 channels on anytime TV.
Currently, the Airtel Digital TV application is released only for the Android users using version 2.1 and above and is expected to come for iOS users very soon. It is available for free download on Google Play Store and is mentioned to be compatible on devices with Android 2.2 and above versions. Before this application, DishTV and TataSky have released similar apps for their consumers.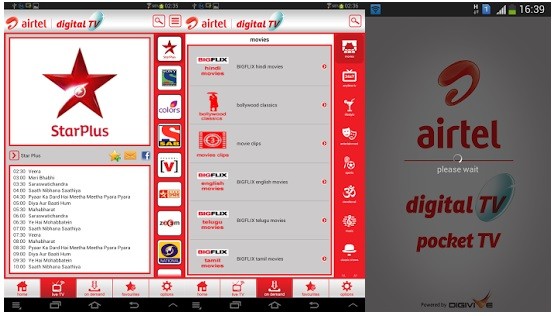 ​
Airtel Pocket TV for Android can support all operator networks. It has a unique feature of adaptive streaming which allows automatic adjusts of the streaming bit-rate according to bandwidth on users device. Along with this, it allows users to select channels conveniently with Genre based UI. Users can also type the channel which they are looking for and can also set it as their favorite channel for easy access in future. Users get the list of program guide one week in advance and also have a facility to check the top viewed and top rated contents on the home screen so that they can set an alarm to view your favorite show or movie.
Once you install the application in your Android device, you need to activate it by sending an SMS - 'ADD TV' to 54325 and get your number registered. To use this application you need to pay Rs. 60 per month which is an introductory price.
Source:
Firstpost
| Download Link:
Google Play Store
@Sarathkumar Chandrasekaran • 29 Mar, 2014
A must have app for tv show lovers
@ppoojavermaa • 10 Jun, 2015
I love to watch TV Shows & movies, but I always try to get most entertainment free so I always use Hotstar Go solo app.
@Ankita Katdare • 10 Jun, 2015
It's been more than an year since this was introduced. Anyone here using Airtel Pocket TV app? Any idea about the charges?
tagging
@SarathKumar Chandrasekaran
assuming he has used it.
Related Posts
Archives
@Ankita Katdare · Nov 10, 2014
A researcher duo from University of Washington may well be on their way to achieve the closest possible thing to telepathy today. The recent efforts by Rajesh Rao and Andrea...
Archives
Hi, I'm new here and i have got few questions i want to ask. first of all, i'm from IP university and my exams are not going very well(not at...
Archives
i need a latest topics on image processing , as i am doing my be in interior area i am unable to collect information about projects and ideas.i need the...
Archives
@satty lavanya · Sep 20, 2012
Hello, I am Satty from Vishakhapatnam. Can someone tell me about the dielectrics in capacitors? What is their role? How do they function?
Archives
@Kaustubh Katdare · Apr 5, 2015
Facebook seems to have decided what they really want to do with their 19 billion dollar baby - WhatsApp. From what we already knew but did not really want to...