Fashion Brand On Making Footprints In Industry
By - CrazyEngineers • 8 years ago • 22.7k views
Voonik is a Chennai-based startup that has brought a personal shopping platform to life. Currently acting as your shopping assistant to help you dress well and well within your budget, Voonik was started with an aim to imagine how shopping will happen after 20 years and create the future NOW!

Voonik was founded by Sujayath Ali (CEO) and Navaneetha Krishnan (CTO). With a package of a small team with great experience, the combo of two developers and two stylists have made Voonik work.

Sujayath is currently designing a new way of shopping with a firm futuristic perspective in mind. He has more than ten years of experience in Product Development, e-commerce, Analytics, Cloud Computing, Mobile Commerce and more. His aim is to make Voonik operate as a data company instead of a traditional e-commerce company.

In an exclusive interview with CrazyEngineers, Sujayath talks about his educational background and the motivation behind launch of Voonik. Sujayath also talks about team leadership, market research and a lot more. Read on!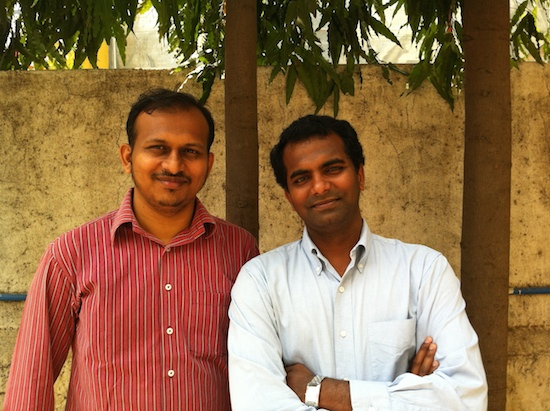 The Voonik Founder
CE: Can you tell us in detail about Voonik? 
Sujayath: Voonik is India's first stylist-handpicked fashion store for women. At Voonik, you can find clothing handpicked by stylists from across webstores, based on your body, lifestyle, and budget. It's all online and completely free.

CE: What is your academic background? 

Sujayath: I have my MBA from Indian School of Business, Hyderabad and computer engineering degree from Mepco Schlenk Engg. College

CE: You started with Voonik after 10 years of job experience in iNautix Technologies, Amazon.com and other companies. What motivated you to found Voonik? 

Sujayath: I wanted to start-up to challenge myself and accelerate my learning. I wanted to see what I am capable of, when I am stripped of my work experience and when I am no longer in the shadow provided by the big brands I worked for. It's a personal litmus test.
In terms of the problem I wanted to attack: I was frustrated that I could never get clothes that suit me. I moved to premium brands, tried trendy clothes, followed celebrities' styles, but nothing worked. I need not be an electronic expert to buy the best gadget at Amazon; Amazon has bridged the gap between a geek and a common man for electronics. Similarly, why should I be a fashion expert to buy the best clothes; I wanted Voonik to bridge the gap between a fashionista and a common man.

CE: How is working for someone different from the experience of having people working for you? What do you think is better? 

Sujayath: When I am working for someone, there is a huge margin of error. I can perform great for a year and survive for many years after that just with that credentials. People who are good at office politics might be growing faster than people good at work. You are doing what you are asked to do; you are not held accountable if the product fails as long as you did your duty.

In a start-up, we have to perform every single day. We are struggling to survive. There is very little margin of error. There is no room for office politics. Every one is held accountable. It's like a family struggling to make the ends meet. Your real character comes out and your real capabilities show off.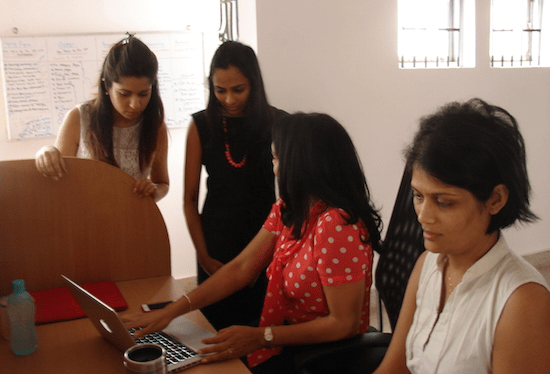 CE: Voonik is founded by like-minded people from various organizations like Amazon, Zoho, HP, IBM, etc. and various institutions like IIT, ISB, etc. How did the team get together? 

Sujayath: The entire team was formed based on referrals. I and my cofounder Navaneeth were classmates and knew each other. Navaneeth formed the development team with whom we had worked in the past. I brought the designer from Amazon. We got in touch with stylist Bhavya who in turn brought other stylists Sheetal and Apurva. Same thing happened in other areas. I ask every team member, "who is the best person you have ever worked with" and do everything possible to get that person to Voonik.
CE: How difficult is it to find the right team for a startup? 
Sujayath:
Hiring is a big challenge. Wrong hires can even force you to shut down. So we hire exclusively through referrals.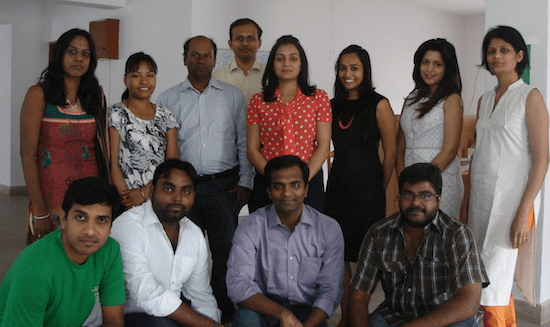 Voonik Full Team
CE: Did you ever feel that your leadership went wrong? What did you do then? How tough is the decision making process? 
Sujayath: Self-doubt is there every day. We don't know whether we are making the right decisions now; we will know it after months or even years. I try to keep my leadership style simple. I let everyone understand their roles, their part in the big picture, their goals, and the importance of those goals. As long as they hit their goals, I stay away. When they don't, I try to work with them to see what's wrong. I don't know everything. I am going through a learning process with every team member. I am also trying to create a culture where we take care of each other like a family. Sometimes this backfires but works most of the time.
In terms of decision-making, the biggest learning is that decisions become easier when there is a broader strategy and tenets in place. So I focus on tenets and strategy so that I need not be involved in every decision.
CE: How important is market research in e-commerce business? There are many sites in the same domain as Voonik. What makes Voonik different from the rest? 
Sujayath: We build our business case from the ground-up. We don't usually rely on the top-down analysis and stats from research reports. We do on-the-field customer development and customer research and estimate how many more customers we can realistically get. We look at the actual metrics of the competition to validate but don't believe their projections.
While there are other ecommerce and aggregation sites, Voonik is the only place, where you get stylist-handpicked clothing personalized for your body, lifestyle and budget. That's what makes Voonik different.
CE: Thank you for your time. Any message for the readers? 
Sujayath: 
It's the crazy engineers who have changed the world. Be crazy, be hungry and let's re-engineer the world.
Note: Only logged-in members of CrazyEngineers can add replies.
Recent updates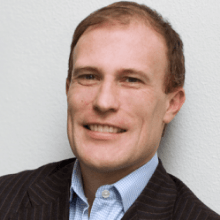 We think with our solution we open up any BI system to that other 80% of all information to get to better-informed more effective decision-making. Research we did together with customers point to a cut in research time of up...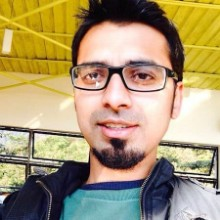 One of my mantra of life is "Never take advice from someone who has not walked into my shoes or been into the similar situation".

Harsh Agrawal

ShoutMeLoud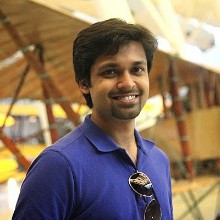 I think being an engineer enables you to think about the world around you in ways which others can't, and that gives you an advantage in solving problems and building things which can help make the world better.

Shiladitya Mukhopadhyaya

Rasilant Technologies