Home

>

Apps

>

Groups

>
Windows may soon run Android apps - Like or Dislike?
Question asked by Chirayu Samarth in #Gadgets on Feb 13, 2014
Since the launch of Windows phones, people have been skeptical about buying it. But, if a new report is to be believed Windows users will be able to run Android apps on their phones. Microsoft is seriously debating on whether to allow Android apps on Windows phone or not.
According to a report published in The Verge, Microsoft is planning to allow Windows users with downloading of Android apps. However, the talks are in the initial stage and some people in the company are against it as they feel it might harm the Windows Phone platform. The people opposing this idea feel that allowing Android apps on Windows could mark the end of Windows platform. Also, some of them think that this might give their rival platform a chance to eat up Windows market. Further, the reports claim that Intel is putting pressure on Microsoft to provide Android apps on Windows.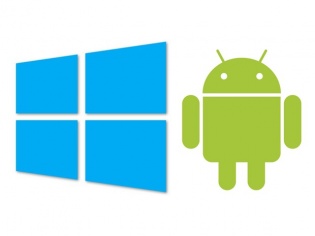 Credits: techtree​
Android has started to become a mobile equivalent of Windows on PCs. Moreover, app developers prefer iOS as a platform for building new apps and Android has been a successful platform for smartphones. But, Windows has failed to achieve either of these two. Nowadays, it has been a tradition of launching apps on iOS and then Android gets the app next. This clearly leaves Windows phones in dust. However, it would be interesting to see how Microsoft implements Android on Windows. Blackberry's similar attempt, with Blackberry 10 OS didn't help its cause as the market share did not grow because the developers needed to submit the apps separately to Blackberry. So, this cannot ensure guaranteed success for Windows phones. But the report in The Verge suggests that Android support might act as a band-aid for Windows.
Till now, there has not been anything official from Microsoft but something like this might bring happiness to some users who want many popular apps on their Windows phone while this might not go well with die-hard Windows fans.
Will Windows users like this move? What do you think? Share in comments.
Posted in:
#Gadgets
I like this idea of porting apps from android to windows phone... It will be extremely beneficial for microsoft...
Agree with @
Aditya Deshmukh
. Also customers would hesitate less to buy a Windows Phone!
And this will improve the deficiency of apps for Windows phone.
But the uniqueness of Windows phones will be lost in the process. Uniqueness that makes Android different from Android or iOS