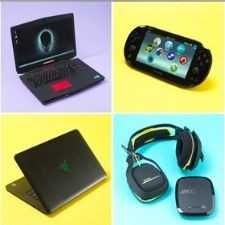 Gadget Geeks
Discuss all electronic gadgets - ask questions, doubts, troubleshooting tips et al. to fellow gadget geeks.
647 Members
Join this group to post and comment.
Whatsapp on Macbook or Windows Using BlueStacks App Player - How to do it?
So I heard people want to user Whatsapp while they are at work on their PCs and Macbooks. Most Whatsapp users know that the app available on Android, iOS, Windows, Symbian among other mobile operating systems. But few know that they can use it on Macbook as well as a Windows PC.
Over 12 million people around the world use top apps like Candy Crush Saga and Temple Run 2 and more on their laptops with BlueStacks. The BlueStacks engineers took two years to build the complex "LayerCake" technology that enable this to happen.
With BlueStacks App player you can use Whatsapp Messenger on Microsoft Windows XP, Windows Vista, Windows 7, Windows 8 Surface Pro and Apple MAC systems.
Here is a video introduction of the time when BlueStacks came on Mac platform -
So how do you download whatsapp on Macbook? Here's the step by step process.
Step 1. Go to bluestacks.com and download the version that is appropriate for your computer (Windows or MAC)
2. Install the file.
3. Once installed, there will be but a few choices of applications that you can use. Search within the application for Whatsapp and install it directly!
Here is a video that explains how to install Whatsapp on Mac OS X -
Important Note:
You cannot use WhatsApp from your phone and computer at the same time, you can only use one at a time. Meaning to say, you can use the same mobile number on Whatsapp only Once!
If you prefer to switch you have to go through the annoying verification process again and again.
Here is a question that people are asking over and over again -
How do I transfer photos/videos/music/files into Bluestacks so that I can Whatsapp them to my friends?
Install Dropbox (or Google Drive) in Bluestacks, and then using Dropbox to transfer the files into Bluestacks. Similarly, you can transfer files from Bluestacks into Dropbox so that you can easily access your file attachments.
Please put your questions in replies below.
thanks for that uploading procedure in pc.
Instead of using Dropbox to put up files in to Bluestacks. You can also install ES File Manager on the emulator and copy the image files you want to "C:\ProgramData\BlueStacks\UserData\SharedFolder" and use the file manager app to browse them and paste it on to your memory.
Note: ES File Manager is quite tricky and unintuitive to use on a PC
(The above process has been tried and tested by me)
Thanks for another method@Satya Swaroop Dash
To use Whatsapp in Linux, you don't need any tool like Bluestack. Chat app is enough to do it.
Currently, a pidgin plugin is developed which allows you to chat with your whatsapp friends right from the desktop.
Here's the link :
https://launchpad.net/~whatsapp-purple/ archive/ppa/ packages
If anyone want detailed step to configure it, just inform below, I will do it in free time. [HASHTAG]#lazy[/HASHTAG]