Home

>

Apps

>

Groups

>
Whatsapp For iPhone Update Features New User Interface
Question asked by Ankita Katdare in #Gadgets on Dec 3, 2013
Whatsapp for iPhone got a new update today which features the new iOS 7 User Interface and a lot of new modifications. Whatsapp has clearly surpassed Facebook Messaging and other such platforms and therefore it becomes important that its updates are carefully rolled out and features really useful additions. The new update version 2.11.5 is compatible with iPhone 5 and sports an improved location sharing using the 3D maps. Users get to use 3D map view, hide places and search places from their iPhone. With an option to broadcast lists, Whatsapp users can communicate with their friends and work colleagues or just friends all at once.
Lookwise, there are now large thumbs for videos and images shared to your friends, so you don't have to enlarge them all the time. Whatsapp has added new notification alerts and sounds. You can check them under : Settings > Notifications > New Message. If you've blocked any contacts on Whatsapp, you can now better manage them using new and improved UI. Go to Chat Settings > Blocked for doing that. If it is large image files that you are sharing with your contact lists, you now have a feature to crop the image before sending it. The new update also introduces a new set of icons and chat bubbles. As was shared earlier by the company, users can backup their WhatsApp conversations into iCloud. They simply have to visit WhatsApp Settings > Chat Settings > Chat Backup and tap on "Back Up Now".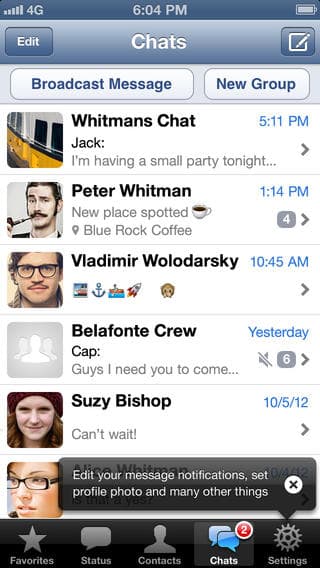 ​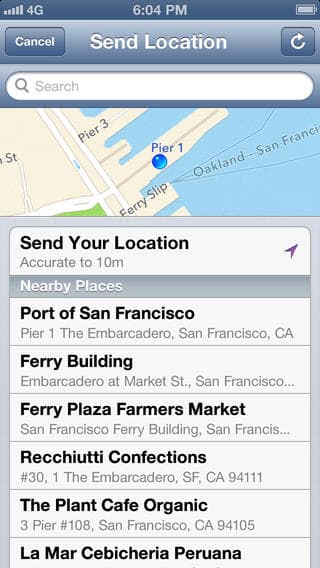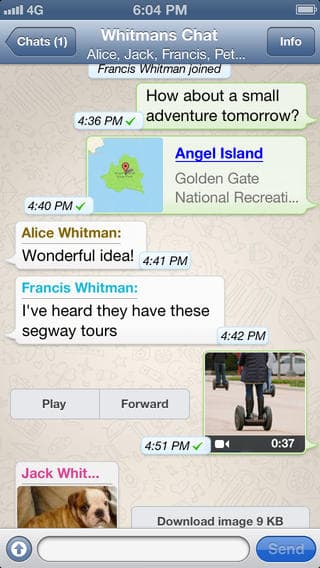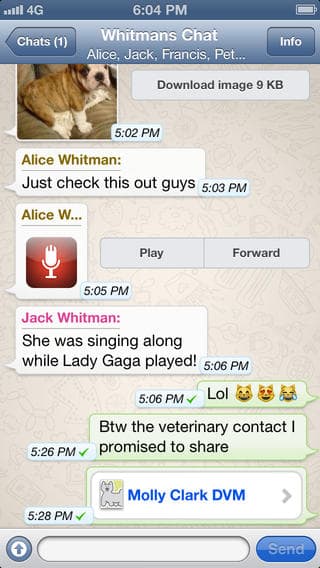 ​
The WhatsApp app is now offered as a
free download
, although new users would be charged $0.99 every year after getting one year of free access to the service, similar to how the service is offered on other platforms. On June 13th of 2013, WhatsApp made an announcement on another social media outlet – Twitter — that they had in fact reached their new daily record by processing a total of 27 billion messages. It has since been reported that as of August 6th of 2013, WhatsApp has well over 300 million active users, and 325 million photos that are shared each day.
How do you like using Whatsapp on iPhone? Share your views on the update below.
Posted in:
#Gadgets
Though it has been clear for long that the WhatsApp's mobile social messaging service is beating Facebook interaction in god-forsaken speed, we now have the numbers.
According to a study
conducted by On Device Research with about 4,000 smartphone users from five countries - 44% of participants used WhatsApp at least once a week. In contrast, only 35% of respondents used Facebook messenger at least once a week.
Take a look -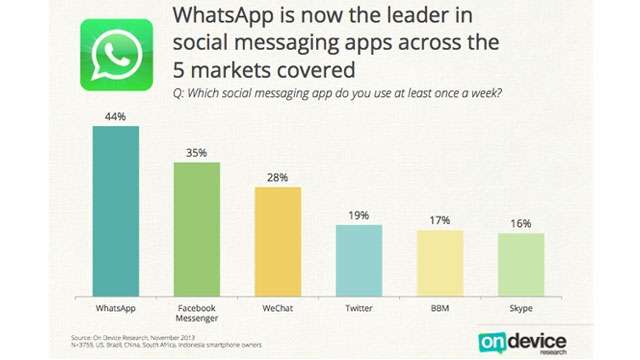 WhatsApp is the new Facebook.