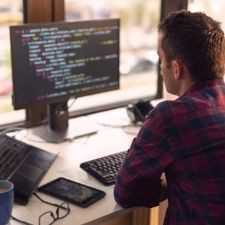 Software Testing
Software Testing Community: Get help from fellow software testing engineers and QAs.
377 Members
Join this group to post and comment.
Want to move to Testing Job-wat to do?
Hi All,

I am basically into development, but wanna move to testing, wat are the courses that will help me with it. I am in Bangalore, can anybody suggest me some courses and where to do them.....
First thing first!!

What type of testing you are interested in??

You have Manual testing, Automation .

For Manual you dont need much of experiece, But getting certified in testing tools like MErcury Quality centre will be helpful.

You can as well opt ISQTP which as well is a good certificate.

For Automation, You need to get your havnd on on scripting automation testing and automation tools like QTP and load runner.

Not sure but I guess developmental experience is good for few feilds of testing..

i gave a very generic description as I am not sure what you are after!!
Interesting to see that lot of developers want to shift to QA. I assume that you are employed. I recommend that you request for a role change in your own organization.

Your second option is to learn the basics of testing [won't take you more than a week to learn] and then apply to a software testing job. No company will have an objection to accept a developer into a software testing job. You can always use your 'dev' background as an advantage over other applicants. 😀
Yeah!!

But be prepared to work long hours!!! 😀
Testing is no less to development at least in mental work you put in!!!
You have a module to develop and you have the whole product to be tested...
But freom HUMAN END it s the most loviesttttttttt part!!

FINDING FAULTS IN OTHERS!!! 😁

just kidding!!!
Currently, I am not working as I resigned my job. I want to get into testing profile and every where they are asking for experience, so I thought I should do some kind of course on Automation tools.

I have finished with my foundation ISTQB.

Can u tell me a proper training center where I can learn about testing tools or is self preparation better?
U can go try hands on some testing tools(open source like Selenium), try to install plugin in Mozilla Firefox and wow u r ready to Automate testing. Rational Functional Tester u can also try, in this code is generated in java. If u have done development in java then it is rite tool for u.
Go for some big named IT companies , they work like govt. organizations, there u can get in to testing profile easily.
Hubby has been offered a concrete testing job? Is the money good? any info?
He has been offered a job testing concrete. They will give him all the training and i think even a certificate at the end. It sounds quite good. Does anyone know what the pay is like in australia for this kind of job? What are the pros and cons? i am just trying to understand as much as i can about the job. Thanks