Home

>

Apps

>

Groups

>
Volkswagen will now help you in Joining Automotive Sector
Question asked by Vikram S Bargah in #Mechanical on May 14, 2014
A Good news for those who are automobile freak and are eager to join the Automobile Industry in near future.
Volkswagen Group Sales India Pvt. Ltd (VWGSIPL) & Hindustan University had join hands & came up with the course (First time in India) for Automobile Industry. In an MoU Signed between the two , a Curriculum for ADVANCED DIPLOMA IN AUTOTRONICS has been started which aims to provide its students a keen insight in to the world of modern automotive technologies as well as raise their skill level to make them competitive enough to join the workforce in the automotive sector.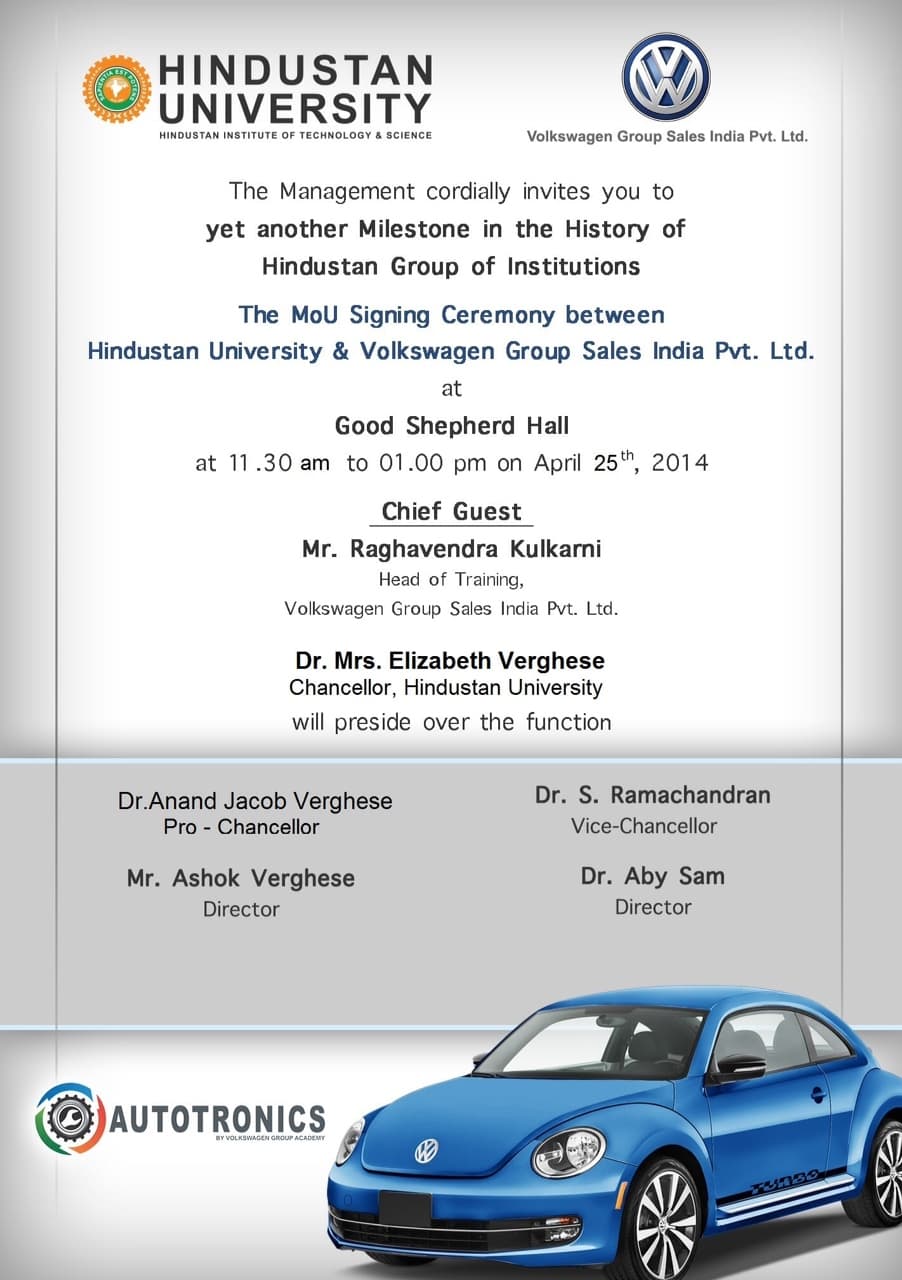 Salient Features of the Syllabus
Course Name: ADVANCED DIPLOMA IN AUTOTRONICS
Organizing University : Hindustan University (Chennai Campus)
Course Structure : It consist of three learning modules which will spread over the period of 18 Months (Which Includes 10 Weeks of Internship)
Interested candidates can visit University Site
https://hindustanuniv.ac.in/index.php
Do Share Your Reviews.
Source :
HINDUSTAN UNIVERSITY
Posted in:
#Mechanical
Its a good platform for students and i like the point that it offer more time in internship .
What is more important is the guarantee that you will be employed, once you complete the course sincerely.

I did a similar course offered by SAE India, and it extended over a period of nearly two and a half academic years. It began since the third semester vacation, and ended during the 8th semester vacations. even during the semesters you still had to do some assignments. They promised that we would be employed by giants like Mahindra, Nissan, caterpillar etc

But not all of us benefited from it. half of the guys ended up in IT majors.