Home

>

Apps

>

Groups

>
VLC Media Player For iOS Download Now Available On App Store
Question asked by Ankita Katdare in #Gadgets on Jul 18, 2013
VLC Media Player for iOS, the app that went on a leave couple of years back, is now launched again. VLC, the multi-format video player has gone live in some parts of the world. Back in 2011, a version of VLC was removed from Apple's App Store on account of violation of the GPL license following complaints from some of it's lead contributors. We remember that one of VLC's original developers, Rémi Denis-Courmont, claimed that the licensing policies did not mesh and iled a complaint against the app. But now, released today, the new version of VLC is licensed under Mozilla Public License v2 and also the GNU General Public License v2, which is applicable to apps distributed on the App Store.
Now called the VLC 2.0, some of the new features on VLC iOS include the facility for WiFi upload that allows users the direct-upload for files through a web browser on the PC or Mac. There's of course the Dropbox Integration, so that users can play their files directly from their DropBox folder or download it for offline playback. Users can download files from any web server for offline playback and play any network streams supported by VLC media player for desktop operating systems.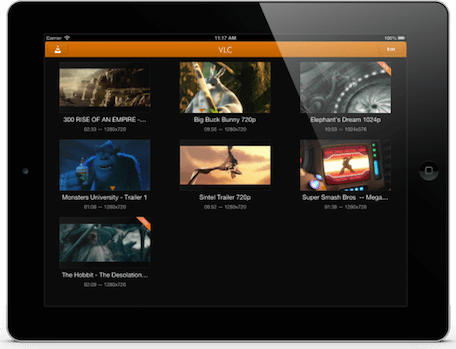 ​
The feature of third-party App Integration means that any app with a 'share' dialog can use VLC for media playback. There's also the option to modify videos for brightness, contrast, hue, saturation or gamma in real time. Those who love using VLC on their MACs and PCs already, will want to do download VLC for iOS right away. But we are sure users have got some interesting options on their iPads. We would like to know which media player you are using. So share that in comments below.
It has been found that VLC Media Player for iOS download has already begun in Australian and New Zealand App Stores. It will be made available in the US around 11pm EDT tonight. Keep a watch.
Posted in:
#Gadgets
Here's a little more information -
VLC for iOS will require iOS 5.1 or later and will run on any iPhone, iPad, or iPod touch, including the first iPad.
After VLC made its debut on Google Play, we have seen that VLC app for Android is still in beta and is available only for devices with ARMv7 or x86 CPUs. Plus,
VideoLAN says it is working on an app for Windows Phone 8 and adds that "it is more difficult".

Do you people think VLC stands a chance of being a hit on all these mobile platforms?
VLC will always be a hit, in any platform.
VLC is backing opus codecs. Opus codecs are getting mature, soon opus codecs will take over the online audio streaming & maybe video streaming (maybe they develop lossy compression for video)
Have been using it since the days it was unknown to many people. Continues to be my favorite media player on Windows as well as on OSX. Good to see this on iOS, finally.

The only thing I'd request is that the default interface should be a bit more prettier.
Kaustubh Katdare

The only thing I'd request is that the default interface should be a bit more prettier.
I agree. Don't know what's keeping them from upgrading its looks.
But the software's performance is really commendable.