Home

>

Apps

>

Groups

>
Use Ringo App To Make Cheap International Calls Without Internet From Android, iOS or Windows
Question asked by Ankita Katdare in #Gadgets on Jan 14, 2015
If you have been worrying about all those international calls you have to make to your clients and relatives staying abroad every month, here's an app that ought to really cheer you up. Called Ringo, an app designed for the three popular platforms - Android, iOS and Windows mobile devices, it's a solution that lets you make low cost international calls without using the Internet (that means no need of WiFi or 3G). Users can dial any mobile or landline phone number in the world at about 25% lower rates when compared to most other international calling apps (So, it's cheaper than Skype too). A great feature of Ringo app is that it makes use of telephone networks and doesn't depend on the internet, thereby not compromising on the quality of the call.
The folks behind Ringo app are the people from Directi, popular as the first ICANN accredited registrar in India, a company founded in 1998 by Bhavin Turakhia, the man who has successfully run several Internet businesses including BigRock, ResellerClub, LogicBoxes and Radix.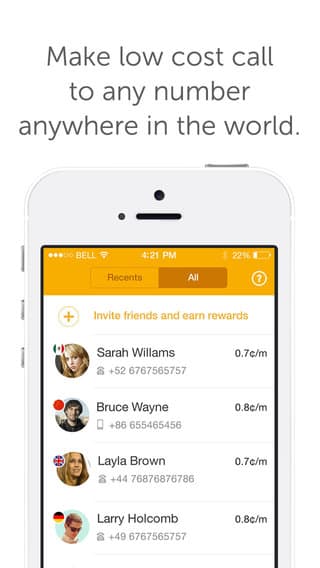 ​
If you are wondering if the app is exclusive to making international calls, well you are right. You can't make local calls through this app as it is designed to simply convert your international calls to local calls. To use it, one needs to treat it like a normal pre-paid mobile connection. The user can add cash for making international calls via net banking, debit or credit cards and this top-up money or calling credits will stay valid for a year. To lure existing Ringo app users into inviting their friends, the folks are offering a scheme that gets you 25 cents in your account every time a friend downloads Ringo and signs up through you.
Let's take a look at the sample rates for calling various countries in India. For calling a mobile phone is US, you will be charged ₹ 1.08/min, for Bangladesh it's ₹ 2.24/min, for UAE it's ₹ 8.66/min and for UK and Canada it's ₹ 1.8/min and ₹ 1.08/min respectively. Here's a chart that explains how cheap Ringo is as compared to popular service providers Airtel and Vodafone in India -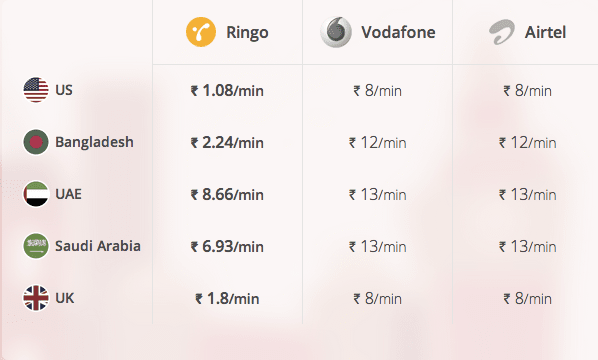 ​
That said, we love the fact that Ringo doesn't need your friends to download & install the app for you to make calls to them and there's no need of a monthly commitment and you may pay-as-you-go. Here's an explainer video from Ringo to help you understand the service better -
Source:
Ringo Official Website
Posted in:
#Gadgets
i'm curious to know how "Ringo" works?
@micheal john
You can visit their official site's FAQ center to get answer to your queries. There is no difference between a Ringo call and a regular international call you dial through your carrier. They only offer cheaper rates (may be pre-negotiated).