Home

>

Apps

>

Groups

>
Twitter Advanced Search Gets 'Search By Date Range' Feature For Tweets
Question asked by Ankita Katdare in #Coffee Room on Apr 3, 2014
Twitter, the micro-blogging giant, has come up with a facility that lets user search for tweets between a date range. This makes it possible for Twitter users to search a tweet from a particular day by a particular person. The facility wasn't available as a direct feature till date. Those wishing to look for a tweet done on say April 1st, would have do some manual work. In other words, those who are aware of how search works, could use the "since:" and "until:" operators to do the trick.
With the new feature available in the
Twitter Advanced Search
page, users can easily start looking for what they want to read provided they know the time period when it is tweeted. To start using the feature, users can go on the results page of their initial search, and click on the
Advanced Search
tab, fill in the appropriate fields and click 'Search'. In the Advanced search page, users will find a Dates tab with 'from' and 'to' sections. A calendar has been added to each of the sections so you can easily select the period. Here's how it looks -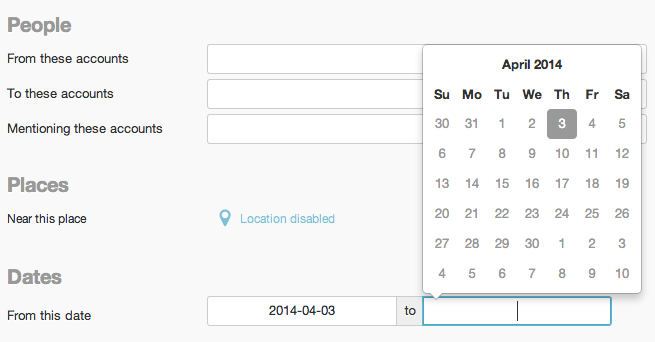 ​
Do let us know if you find this feature useful through comments below. If you are an avid Twitter user, you might find this feature super-useful. It was spotted first by the folks at
TechCrunch
and no official declaration of this small feature was made by the Twitter officials.
If you are going to try it right away, we recommend that you select "All Tweets" if you'd like to see everything, instead of just "Top Tweets." Happy tweeting!
Posted in:
#Coffee Room