Home

>

Apps

>

Groups

>
Trendy Style L12S OLED Bluetooth Bracelet Watch Hands-On Review
Question asked by Ankita Katdare in #Coffee Room on Jul 9, 2014
As manufacturers around the world are sprinting towards getting the wearables (especially the smartwatches) on their portfolio, here we have a product titled 'Trendy Style L12S OLED Bluetooth Bracelet Watch' that has been introduced by GearBest.com, to catch up with the maddening frenzy. In their effort to get the smartwatch's features right, the L12S smart bracelet is equipped with the basic facilities that let the user dial and answer calls, display caller ID, sync SMS and play music. Keeping in mind that the competition it has from the likes of Google's Android Wear, Samsung Galaxy Gear, Sony Smartwatch LG G watch and the Pebble (with no clear leader), the Trendy Style L12S smartwatch has a lot to offer at a very cheap price.
The one feature that makes this smartwatch stand out when compared to its peers is that it is compatible with iOS, Android, Symbian, Blackberry OS as well as Windows phones. That's something that none of its competitors offer right now. Built upon the simple concept of not letting people miss any phone calls or text messages, the Trendy Style L12S smart bracelet has been designed to become a so-called "wearable fashion accessory."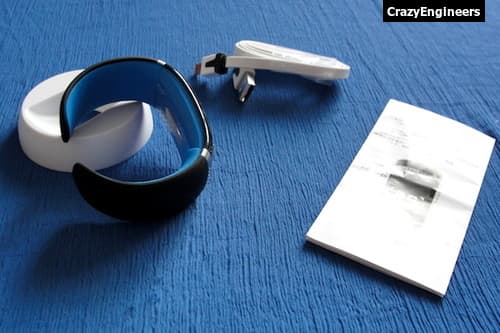 ​
Design
Look-wise, this smartwatch did not fail to impress me. I was delighted to see the simple design and the fact that it simply slips over your wrist. The rubber material used for the band is smooth and feels good in hands. I would like to bring it to your notice that the body is rigid and can not bend.
The watch weighs about 40 gms and feels super light-weight on hands. The OLED display does not have a touch screen, but has touch sensors just above and below it. There's a button below the screen that is used to turn the watch ON and OFF as well as to do some selected functions.
There's a mini-USB port on the right side of the wristband to be used for charging the smart watch.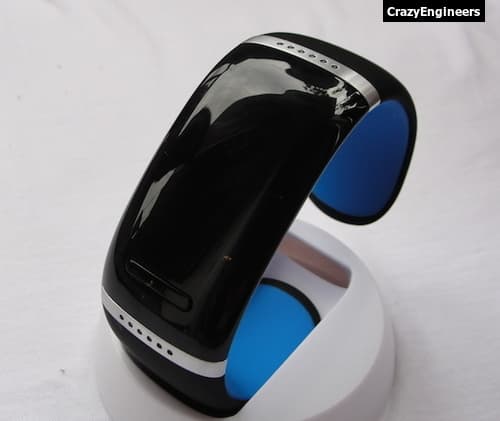 ​
Technical Specifications
The watch support Bluetooth 3.0 and EDR technology with senior A2DP audio transmission mode. Users have to pair their phone with the watch to enjoy all the features it provides. There's 32 MB of internal memory, a speaker, a mic and a built-in 250mAh battery that is charged via USB.
​
The watch also comes equipped with a 3D Gyroscope gravity sensor or pedometer. The company claims that the battery offers a stand-by time of 168 hours. Available in color options - blue, red, orange, yellow, white and purple - the smartwatch comes with a USB data cable and a white-colored stand to hold the smartwatch in up-right position when charging.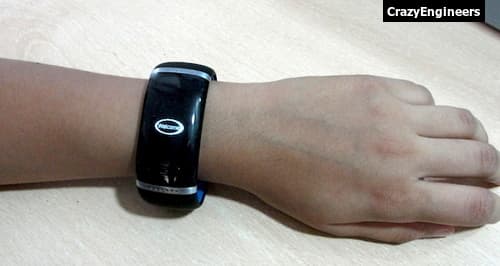 ​
Apart from this, the smart bracelet also offers built-in
NFC
, wireless charger and infrared heart monitor if you are ready to shell out some additional bucks for it.
The dial thickness is 0.5 inch, the dial diameter is 1.1 inch and the inner perimeter of the bracelet is 7.1 inch.
Functions and Features

Pairing this smartwatch with your phone is very easy and quick. Once paired, I could easily sync all the contacts from the paired device, pick up calls and get notified for the messages.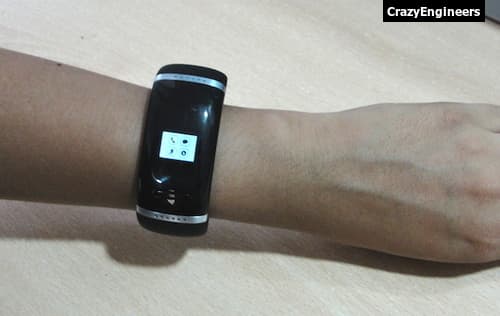 ​
Thanks to the built-in pedometer, we can wear the watch outside and be active and keep track of it. The specifications say that we can even play music through the built-in speaker, however I tested it with a Samsung Galaxy Note and could not play music through it.
Summary

The Trendy Style L12S Smart Bracelet has limited features, but if one can't afford to shell out hundreds of dollars as of now, this smartwatch can satisfy your craving for the on-the-go gadget at a price of about $31. If you are someone who is always on the move, the smartwatch can be your cool companion for receiving calls and sending quick texts to the people near and dear to you.
What you'll like -
1. The design, looks and feel of the smartwatch.
2. Easy pairing with Bluetooth.
3. Compatibility with multiple operating systems.
4. Speaker quality when receiving notifications and phone calls.
5. Battery Life. It lasted for 3 days straight on a single recharge.
6. The fact that you can use it as hands-free in-car call system.
What you won't -

1. The display screen. It isn't clearly visible in direct sunlight.
2. The fact that the app that works with this smartwatch isn't available on Play Store or iTunes store.
3. Users can't add apps or other features. The features are limited to what is pre-installed.
Final Verdict

You can buy the smartwatch on
GearBest.com
if you want to give wearable devices a try. This is one of the cheapest option available in the market that won't disappoint you for the price it is offered at.
Update:
GearBest has offered a 5% OFF Coupon. Just use the code: Lily05 while making the purchase. Ciao!
Posted in:
#Coffee Room
The one feature that makes this smart watch stand out when compared to its peers is that it is compatible with iOS, Android, Symbian, Blackberry OS as well as Windows phones.
That's something that none of its competitors offer right now....I like the most..👍👍...which clearly stands this device on top...😁
For a price of around 1900 bucks the Trendy Style L12S Smart Bracelet provides quite a lot of functions. The ability to make calls is a sought after feature in most smartwatches. The compatibility list is quite extensive partly because the smartwatch has been built by a generic manufacturer who does not have affiliation to any major manufacturer. While most might think that a 250mAh battery is not sufficient for a smartwatch (since we find a minimum of 450mAh capacity in latest Android Wear smartwatches) it is sufficient for the Trendy Style L12S Smart Bracelet because it has a smaller display that does not support touch. It will be a good deal for people who desperately want a smartwatch but do not want to spend a fortune.
What is the shipping charge on Gearbest.com (ship to India)?
Is there a way to reset or reload the software to this unit. Mine seems to be stuck on the "synced" screen.
@MouseQuake
A representative from GearBest.com saw your query and sent me an email, that goes like this -
1. Was the app installed?
2. Did the phone have anti-virus software or firewall software installed?
The app needs to be set up to be secure trusted.
3. Did the SMS contain MMS messages or special symbols? If there are, the swatch will not succeed to connect.
4. All data of the phone can not be synced as the swatch only has a small storage.
5. The app of the swatch can't be used on the iOS system. If you are using iPhone, the functions are limited.
She will get back to you here on Monday.
Hello everybody, I bought 5 bracelet and I have only one Problem !
I can't modify date and time, becuase on the Setting menu, dont' exist this menu: Time and.. I tried all.. and I think that it's a Software Problem. Now, the China Support dosen't answered me (only stupid answer's) so I ask you if someone can help me to upgrade the Software if it's the real Problem. some data : bracelet, bought on April 2014. THanks a lot !! Brian79