Home

>

Apps

>

Groups

>
Transparent Texting App Will Allow Users To Safely Walk While They Text
Question asked by Chinmay Joshi in #Coffee Room on Apr 1, 2014
Apple is planning to make texting while walking safer by introducing a new Application called "Transparent Texting" which allows users to see what is in the front of their eyes on their mobile phone itself. This was revealed by a patent application filed by Apple in 2012 at the United States Patent and Trademark Office. The patent describes that with the help of the rear camera, the smartphone replaces the text's background by live video of whatever is in front of the user. This concept can be beneficial since many mobile users continuously text while walking, there's a high chance of tumbling over obstacles and in some cases it can lead to serious accidents.
Here, the user we be able to activate this feature of transparent texting by pressing a transparency button which will appear during a texting session which automatically starts the live video. The feature enables text bubbles appear above the video feed which would be opaque or semi-transparent. Interestingly, this concept was already implemented by another third party app called "
Text and Walk
".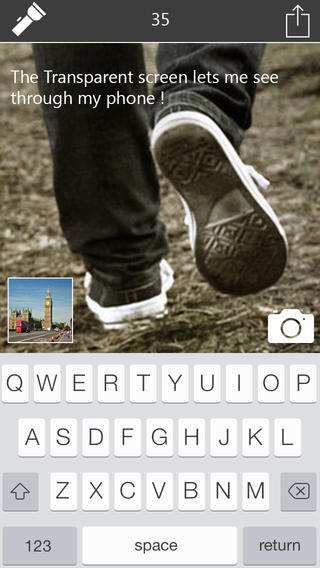 ​
According to the study by researchers from University at Buffalo in US, texting while walking can cause more harm than distracted driving. While injuries caused by car accidents while texting are more severe, it is important to note that injuries due to texting while walking occur more frequently. This is justified in The New York Times report which says that more than 1,000 pedestrians were injured due to texting while walking in year 2008. Therefore, Apple's transparent texting will app might actually be of lot of help.
This technology can also be used for web browsers and ebooks where the text and messages would appear over the live video background. What do you think of this amazing concept? Share with us in your comments below.
Source:
iDownloadBlog
Posted in:
#Coffee Room
I don't think this will prove to be any useful. There are already 1000's of such apps for Android and I tried one. For me, I was still focused on texting/surfing rather than looking at the rest of screen which shows what's ahead of me. Don't know if that's just me though.

Anyway, I stopped taking out mobile while walking after an attempted snatch, which failed but gave me an important lesson... 😛
Utter waste in night conditions where users may not be able to use during night time.
How does it will have impact on battery life?
[Prototype]

Anyway, I stopped taking out mobile while walking after an attempted snatch, which failed but gave me an important lesson... 😛
I think for attempted snatch, this is what is anyone's best bet -
😁😁😁