Home

>

Apps

>

Groups

>
This Russian Robotic Cockroach Will Impress You
Question asked by Kaustubh Katdare in #Robotics on Sep 29, 2015
The new robotic cockroach from Russia will surely impress all of you. According to Russian web portal Sputnik News, this (see pic below) robotic cockroach was built for an unknown organisation by the scientists and engineers at the
Immanuel Kant Baltic Federal University
in a span of just seven months. The client organisation wanted to create a bio-inspired robot that will mimic three characteristics: the robot should be similar to cockroach, should match the physical size and also have behavior similar to that of a living one.
Chief designer of the project and professor at the University, Alexei Belousov said that the biggest challenge was to strike a balance between the three characteristics. He informed that the engineers at University of Berkeley have been developing a similar miniature machine for the last four years and have developed one that's faster than theirs. However, that robot cannot turn while moving and is not like a real cockroach.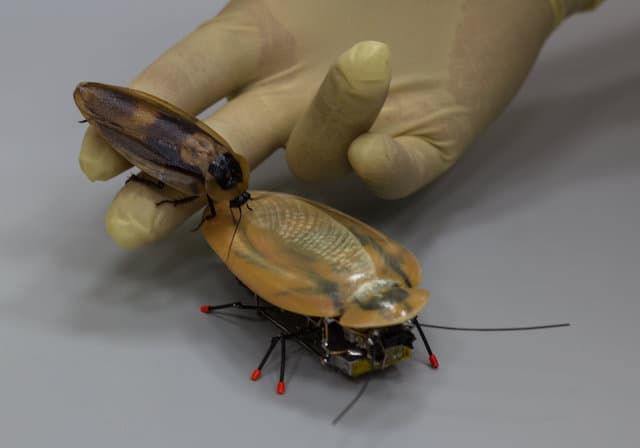 ​
Belousov and his team were asked to make a robot that would be similar to a living cockroach within a given time-span and budget. The team decided on the South American species of cockroaches named
Blaberus Giganteus
; but it was very difficult to find it in Kaliningrad. The team therefore decided to work with
Blaberus Craniifer
- a specie that is identical to Giganteus in appearance and bio-mechanics but different only in size.
Engineers studied the cockroach for two months and noted all its characteristics, habits and other important movement patterns. The final product is a robot that is 10 cm in length with ability to move at 30 cm per second. It's equipped with photosensitive sensors, contact sensors so that it can detect obstacles and avoid them. The robot can be controlled using an app installed on the smartphone.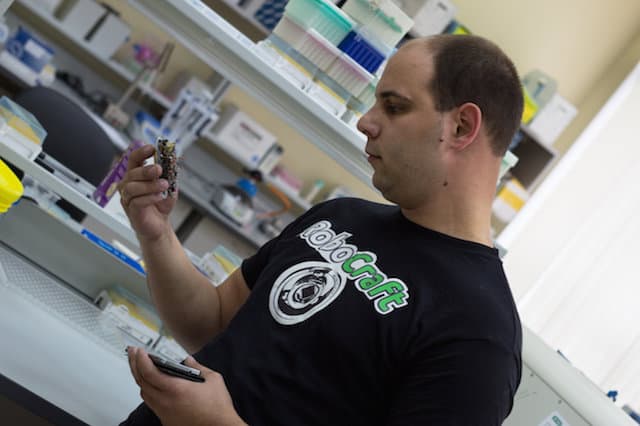 ​
The team has began working on the navigation system integrated on the robotic cockroach. With its new navigation system, the cockroach will be able to move on a programmed path. It will make use of an accelerometer, gyroscope and magnetometer to achieve its goal. The robot only weighs about 10 grams and has a battery backup of about 20 minutes.
This cockroach robot, as you'd guess, can reach out to places which are otherwise impossible to reach. Equipped with camera, they can provide lot of information at disaster hit places and may generate interest from the military. The researchers are also making a camouflage that'd make it look very real.
Source:
Sputnik News
| Image Credit:
RoachFromBFU
Posted in:
#Robotics
The 'Fair and Lovely' lot are working on a conductive spray (RoboHit) that will short circuit and deactivate this. Arnab is ready with: 'Nation wants to know who paid...'
The secular media has set up panel discussions on: 'why is it saffron coloured?'
Indian engineers and technical curricula have to get into robotics fast.
lol!
@A.V.Ramani
: Indian engineers have strange challenges 😉
I'm wondering if the military gets access to these; which is quite likely, the entire warfare is going to be radically different than what it's been till now. None of us will figure out when and where are we getting spied! The governments, militaries, spies and hackers will be able to penetrate anywhere physically and get all the information they want. I won't be surprised if engineers make miniature mosquito robots.
We can't even imagine what direction this all is going. It just doesn't feel right.
Kaustubh Katdare

We can't even imagine what direction this all is going. It just doesn't feel right.
Beat this :
Wtf I just read?
I wonder how many of these daily innovations are actually doing good for human beings ?
I will program that cockroach robot to carry baygon spray and kill actual cockroaches. ☕
Anoop Kumar

I will program that cockroach robot to carry baygon spray and kill actual cockroaches. ☕
...only to discover that there aren't any living cockroaches OR the other cockroaches are robots that are jamming all your wireless signals 😁.
Everything becomes very interesting when you start being creative; you see.