From the Archives
Archived discussions on CrazyEngineers
@Ankita Katdare • 20 Apr, 2015 • 2 likes
A team of researchers led by Ashutosh Saxena, Asst. Prof. Computer Science at Cornell University, have developed a new system that can anticipate the driver's actions so that he or she could be warned against doing it. For instance, the car safety system can predict if the driver is about to take a turn or change lanes and determine if that action could be dangerous. Depending on the system's algorithm that calculates the probability of something bad happening, it warns the driver to avoid it. This means, even though we are some years away from having self-driving cars, this kind of a car safety system can definitely help drivers in having a safe ride. In some of the existing safety systems, the car's movement is monitored to warn the driver. However, such warning often come too late i.e the driver has already acted. Therefore, the new system developed by Cornell researchers works by observations of driver's bodily movements while keeping the outside environment in context and suggest a proper course of action for the driver.
The new car safety system achieves this by employing cameras to track the driver's body language as well as locating the other vehicles & obstacles on the road. The warning will be issued in the form of sound alert, light alert or vibration (possibly on the left side of steering wheel). Moreover, by utilising GPS systems, the system can also guide the driver if he is about to take a turn towards a one-way street. Smart.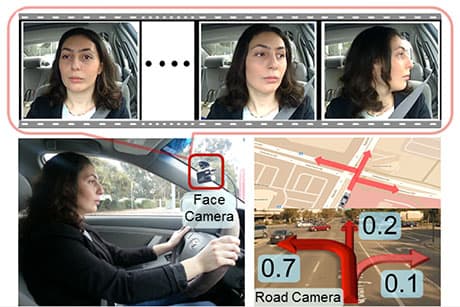 ​
The system has been successfully tested to result in correction prediction of driver's actions 77.4% of the time ~3.53 seconds in advance. Even though that's the case, such a car safety mechanism has a long way to go before it can be implemented in mainstream four-wheelers. The current system can be easily deceived into wrong predictions. For instance, change in lighting conditions or drivers interacting with passengers or even shadows of passing poles & trees can confuse the system.
To refine the results, the Cornell team hopes to employ various modifications such as infrared cameras for observation at night, tactile sensors for monitoring pressure on the steering wheel, pressure sensors for anticipating braking and 3-D cameras for greater accuracy.
The team is right now all set to present their research work at a workshop on "Model Learning for Human-Robot Communication" at the 2015 Robotic Science and Systems conference slated for July 16 in Rome.
What are your thoughts about having such a car safety system installed on your car? Share with us in comments below.
Source:
Cornell Chronicle Research
@Rajni Jain • 21 Apr, 2015
Astonishing !
Very interesting. However, I have few questions:
- Normally every person have different reaction time, and that is always tough to guess
- Most of the accident happens due to stupidity of some reckless driver, How to predict that?
-Last one, even if the system will mention about it, wouldn't it be tooo late?
@Ankita Katdare • 21 Apr, 2015
Rajni Jain

-Last one, even if the system will mention about it, wouldn't it be tooo late?
That's the beauty of it. The researchers hope to alert the driver at least a few seconds before he/she *might* take the action.
And to answer your other questions, well the researchers have definitely mentioned that the system isn't full proof and needs a lot of refinements. The slightest change in a driver's actions may set off the alarm, and that can be annoying as well as a great distraction.
PS: I believe an artificially intelligent system needs to be developed that learns to function specifically for different drivers. It should adopt its algorithm to match a driver's body language.
@Rajni Jain • 21 Apr, 2015
Absolutely agree that, an ALERT just *seconds* before the accident may cause distraction to driver and lead to a disastrous situation.
@Ashraf HZ • 03 May, 2015
Rajni Jain

Absolutely agree that, an ALERT just *seconds* before the accident may cause distraction to driver and lead to a disastrous situation.
I believe in certain situations, an alert would still be valuable. E.g in the case of changing lanes abruptly into an faster moving car. It's like your passenger shouting "careful, watch out for the other car" just because he/she has been observing the surroundings and seeing you are about to turn into it.
Related Posts
Archives
@Sahithi Pallavi · Aug 6, 2009
1) Which is the world's first credit card? A) American Express B) Visa C) Mastercard D) Diners Club Card 2) What do you call a person who is one hundred...
Archives
we've been taught that ac current is alternating in nature i.e. no negative or positive poles but we been also told that live actually carries the current and the neutral...
Archives
@selva ganesh · Aug 6, 2012
hi friends, please suggest some innovative paper presentation topics in CSE .
Archives
@Kaustubh Katdare · Jun 25, 2013
After the Indian Government made it compulsory for everyone to install the DTH service at home, we opted for Tata Sky in order to make our lives 'Zingalala'. But it's...
Archives
@Ankita Katdare · Dec 27, 2013
After a series of smartphone launches in 2013, Intex Technologies - the Indian smartphone brand is looking to end the year with another one. Today, Intex has unveiled a new...