CrazyEngineers V4: Early Access
We are developing the next version of CrazyEngineers. If you wish to receive latest updates and early access, click the link below.
Home

>

Apps

>

Groups

>
The Next Generation Smartwatch: WristWhirl Allows You To Control Apps Using Your Wrist
Question asked by Debasmita Banerjee in #Coffee Room on Oct 15, 2016
Smartwatches aren't anything new, it has become an iconic style statement and a virtual assistant to keep track of your fitness agenda or official notes. But what if you fail to touch the screen or scream which turns on your apps? A research team at Dartmouth University has proposed a wise suggestion to relieve you from this speculation. Here comes the WristWhirl that uses your wrist as a joystick to execute the contemporary jobs following one handed continuous input.
Ever wondered how Tony was able put on the iron man suit by waving his hand? Assistant professor at the Dartmouth University Xing-Dong Yang called WristWhirl to be the first of its kind exploring gestural input. Highlighting its advantage, Xing said the device is a must technology for future development as it frees one hand, the other coupled with the instrument will be responsible for its deeds.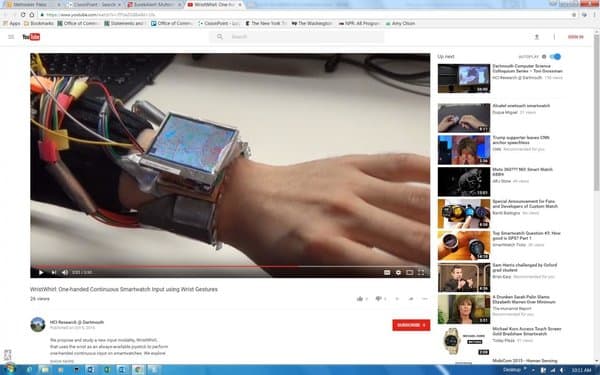 Essence of WristWhirl
​
The prototype development was the next stage after a short experiment including human participants. They were asked to make eight joystick-like gestures such as four directional marks similar to tapping a touch screen, drawing some free form shapes such as triangles etc. These actions were performed while their hands were placed in front and they were able to see the effects of the corresponding actions getting replicated on the screen.
The results also revealed several fun facts regarding the participants' speed respective to the specific movements. Now to measure the accuracy of the free-form paths reproduced on the screen a $1 gesture recognizer was used that detected 93.8% accuracy of the system, significantly higher than manually detected 85%.
The WristWhirl features a 2" TFT display with a wrist strap that comes equipped with 12 infrared proximity sensors and a Piezo vibration sensor. The ensemble is further connected to an Arduino DUE board. In several testing, serially, Google map was tested, gesture shortcuts were created, a music player app, map pan and zoom supporter, game supporter were developed to fill the space and measure the performance. The research project will be published on 19th October at ACM Symposium on User Interface Software and Technology.
Watch the new generation smartwatch WristWhirl:
Source:
Dartmouth
Posted in:
#Coffee Room