Home

>

Apps

>

Groups

>
The NASA Robotic Eel To Turn Sci-Fi Into Science Fact Under NIAC Program
Question asked by Ankita Katdare in #Robotics on May 10, 2015
Replacing conventional power systems with a soft robotic rover called 'robotic eel' for land and water based exploration of gas-giant moons such as Europa, could be the new innovative technology coming out of NASA. Pathbreaking innovations that take research & studies ahead by leaps and bounds is what the US Government space agency has always been after. In their new program called 'NIAC' short for - NASA Innovative Advanced Concepts, the committee has chosen 15 different proposals that have the potential to turn our sci-fi into reality by developing cutting edge technologies. The space research agency's aim is to progress in the exploration of asteroids, newer plants and all the space beyond lower Earth orbit. The selected proposals are some of the most exciting concepts and the NASA team believes that with these ideas they are re-imagining the future by tackling challenges in both tertiary and aerospace domains.
Coming back to the robotic eel, we are talking about an amphibious rover that features a short antenna on its back. The eel shaped bot resembling a squid will have tentacle-like structures that will work as electrodynamic 'power scavengers' to harvest power from locally changing magnetic fields. For a challenging environment as that of Europa, the sixth-closest moon of the planet Jupiter, which is made of silicate rock and has a water-ice crust and probably an iron–nickel core, a robotic eel could conduct exploration with much flexibility and enhanced manoeuvrability.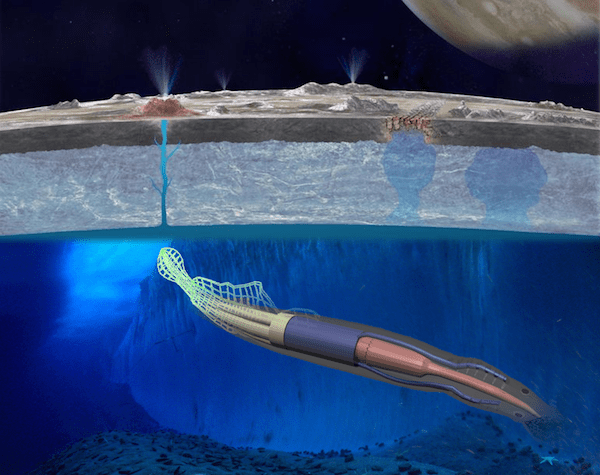 NASA Robotic Eel (Artist Illustration)​
Among other interesting proposals under NIAC, there are two glider-like UAVs connected by a strong cable at different altitudes that sail without propulsion. Such an aircraft could server as an atmospheric satellite that could last in the stratosphere for years to come. The advantage of such a project is that future science missions would get navigation and monitoring capabilities at a fraction of the cost of what is required by orbital satellite networks. NASA is also looking at cheaper multiple bots including robotic crawlers, hoppers and soccer-ball style buckey-bots.
Among thousands of project received for review, NASA chose the ones that ranked higher on technical approach and if they could be developed in a reasonable timeframe. As per the official website (link in the end), the teams behind these proposals will receive a $100,000 grant so that they can conduct their studies over a period of 9 months to define and develop their ideas. Upon successful completion, they will become eligible for applying to the Phase-II of the NIAC program and receive an additional $500,000 funding for developing their project further over a 2 year long period.
The bigger aim of NASA is to come up with resources and technology that enables safe and affordable deep space exploration. What are your thoughts about NIAC and the robotic eel at NASA? Share with us in comments below.
Source:
NASA
Posted in:
#Robotics