Home

>

Apps

>

Groups

>
TCS Off Campus Drive - 2018-2019 Batch - Registration Form, Eligibility, Hall Ticket, Exam Date and More
Question asked by Ankita Katdare in #ExamPrep on Oct 20, 2018
TCS has announced an Off Campus Drive for the 2018 Batch and the registration has already began. You have time till 5th November to register for it.
Eligibility Criteria -
Qualification: Full-Time Graduates from B.E/B.Tech/M.E/M.Tech/M.Sc/MCA - 2018 YOP (Year Of Passing)
MCA with B.Sc/BCA/B.Com/BA (with Math/Statistics background) M.Sc in Information Technology/Computer Science/Software Engineering
No Backlogs and No Extended Education (in X, XII, UG & PG)
Overall Gap in Academic Career not to exceed 2 years
Eligibility Percentage Criteria: 60% throughout Academics in X/XII/UG/Diploma/PG
TCS Off Campus 2018 Examination Pattern and Test Sections: 
Verbal Ability - 10 mins - 10 Questions
Quantitative Aptitude - 40 mins - 20 Questions
Programming Concepts - 20 mins - 10 Questions
 Coding - 20 mins - 1 Questions
After the test, if you pass, the interview schedule would be sent to your registered email ID.
TCS Off Campus 2018 Batch Important Dates:
Registration Starts - 16th October 2018
Registration Closes - 5th November 2018
Hall Ticket Issue Date - 9th November 2018
Exam Date - 13th November 2018
Join TCS - 1st Week of December 2018 Onwards
Fill up this registration form (before 5th november: 
https://careers.tcs.com//EForms/configuredHtml/2030/58210/application.html
If you have any questions about the registration form for TCS Off Campus, ask them below.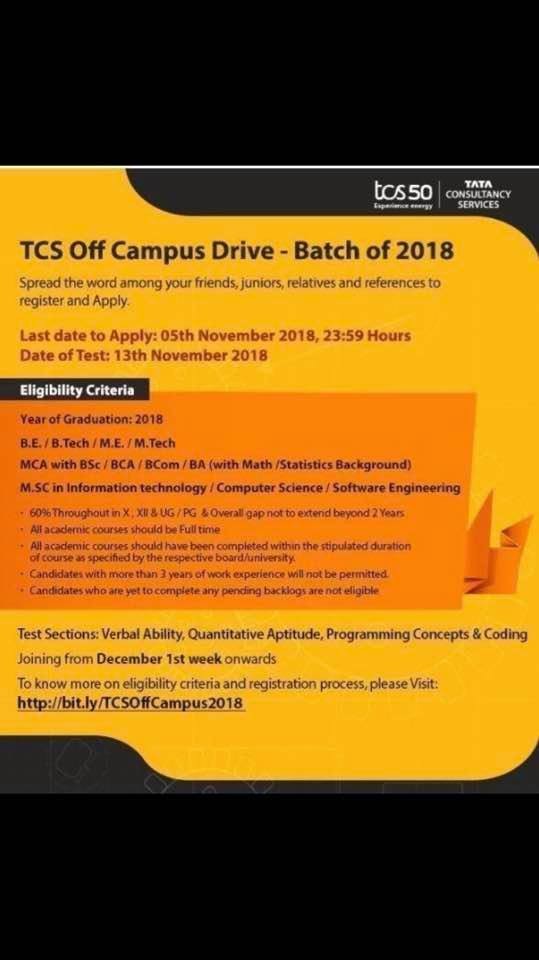 Posted in:
#ExamPrep
I want to change my Test Location. Where can I do so? I will not be able to attend the Off-Campus Test as I am out of town on that day. Is it possible to  please change the date for TCS Off Campus?


@Shivam The date of TCS Off-Campus cannot be changed. Also, you cannot change the Test Location once you have submitted the registration form.
Tcs smart hiring for BSc./BCA hall ticket not issued till now, while the test is scheduled on 05/01/2019.How an examinee will manage it ?
Tcs smart hiring for BSc./BCA hall ticket not issued till now, while the test is scheduled on 05/01/2019.How an examiner will manage ?
I think the hall ticket issue date was 2nd January. Did you receive it finally? @umesh prasad 
TCS nextstep exam date for 2019
I have finished,Tcs BSc./BCA test today by 4pm.There was questions related to programming and been a science zoology stream I was quite unknown to the same.Otherwise all the questions were easy.Thanks a lot  TCS.
Did anyone got the result of TCS Bsc/BCA hiring 2019
What is candidate batched in TCS next step