Home

>

Apps

>

Groups

>
Stratolaunch, world's largest aircraft completes first phase of engine testing
Question asked by Kaustubh Katdare in #Software Testing on Sep 25, 2017
Paul Allen, the lesser known co-founder of software giant Microsoft has been busy doing some pretty massive stuff. Back in 2011, Allen founded 'Stratolaunch' a company that aims to make the space more accessible. The company has been building mega airship that can be used as a platform to launch rockets into low-Earth orbit. This task requires huge plane, bigger than anything that existed before and the company has now reported that the world's biggest aircraft has now successfully completed the first phase of engine testing.
Mr. Jean Floyd, the CEO of Stratolaunch wrote on the official website that the company hit an important milestone on September 19th. Company successfully tested aircraft's six Pratt & Whitney turbofan engines. The test was conducted in three phases. The first, 'dry motor' test had auxillary power unit charge the engine. The second test, called 'wet motor' checked how the engines worked with fuel and in the third test, the all the engines were started and then put on idle. Each of the six engines worked as the engineers expected.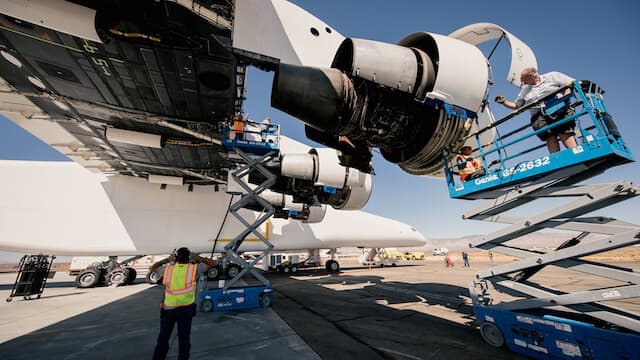 Image Credit: Stratolaunch​
Floyd wrote that each of the six engines of the craft were filled separately and tested to make sure that all the mechanisms were functioning as expected. The fuel tanks were checked and confirmed that they were leak proof.
In addition to the engine tests, the engineering team checked the flight control systems. Team has tested limits of motion and rate of deflection of control surfaces on the wing and stabilizers. Other systems viz. electrical, pneumatic and fire detection systems were tested as well. The tests were successful. Stratolaunch engineers now plan to work on testing the engines at higher power levels and in different configurations.
The aircraft, as you can guess from the above photo, is massive in size. It's got a length of 73 meters and wingspan of 117 meters. It weights about 590,000 Kgs and can carry a payload of about 2,30,000 Kgs. The range of the aircraft is about 3704 Kms.
Source:
Stratolaunch News
Posted in:
#Software Testing