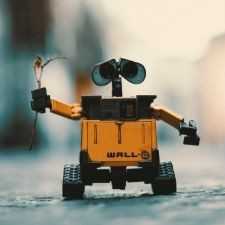 Robotics
Community of Robotics Enthusiasts: Discuss latest robots and questions with fellow robot lovers
628 Members
Join this group to post and comment.
'Stompy' Is The Giant 6 Legged Hydraulic Robot That You Can Ride Around
Project Hexapod, a team of 3 instructors, 1 TA and 15 students from Massachusetts is building a 18 foot wide, 4000 pound, 6 legged, engine powered hydraulic walking robot, and they have named it 'Stompy'. This open hardware project lets you ride the robot while it serves multiple purposes like walking over broken terrain or water - the places where vehicles normally can't go and also carry huge weights (about 1,000 pounds) at high speeds (about 3 mph).
It has been 4 months, the Project Hexapod is in progress to achieve its dreams and has significantly progressed its development that includes - designing 80% of total Stompy's chassis, developing hydraulic joint designs, designing of simulation environment with models of hydraulic force and building of a half-scale prototype leg. Currently the team is building a full-scale prototype leg and is looking to raise funds to complete the giant. The funding of $65,000 would be used in hardware to build the robot that includes legs which cost around $6,000 each that covers waterjet-cut steel, high quality shock absorbers, hydraulic cylinders and valves. The body that accounts for 1,000 pounds of steel, other electronics and items like screw, wires would total the remaining. If things take place as expected by the team, the robot might be shown at a festival or a fair very soon.
The fund raising is on till 2nd September this year at KickStarter. If riding a 6 legged, giant, hydraulic robot excites you, then visit their website or take a look at this video -
Via:
Kickstarter