Home

>

Apps

>

Groups

>
SpyMeSat App For iPhone & iPad Tells You Which Satellite Is Watching You
Question asked by Ankita Katdare in #Gadgets on Oct 21, 2013
If you care about such a thing as - which satellite is looking at you right now, the SpyMeSat app is the right thing for you. Developed in the US by Orbit Logic, SpyMeSat is the first app of its kind designed for iPhone, iPad and the iPod Touch, that notifies you when you are within range of an imaging satellite that could be taking your picture. Though the app doesn't include all the satellites available in orbits obove Mother Earth, Space.com has reported that all of the imaging satellites mentioned in the SpyMeSat app are in low-Earth orbit at an altitude of about 805 kilometres. So, in short, this app is space situational awareness for everyone, computing and displaying upcoming and current imaging satellite passes for your location or any selected location on the globe.

Some of the SpyMeSat satellites include such zoom-lens notables as GeoEye, the French space agency's SPOT-5, India's CartoSat-2A, DigitalGlobe's WorldView satellites and Canada's RADARSAT-2. The user can drill down to look at the details of any pass, see a dynamic map graphic update with real-time position and imaging resolution information displayed as the satellite flies overhead, and even see a picture and description of the satellite. "I actually got the idea for the app from talking to friends outside the aerospace industry who were always very interested in space and satellites and imaging from space. This app answers those questions in a fun and interactive way," said Alex Herz, president of Orbit Logic in Greenbelt, Maryland which developed the app.​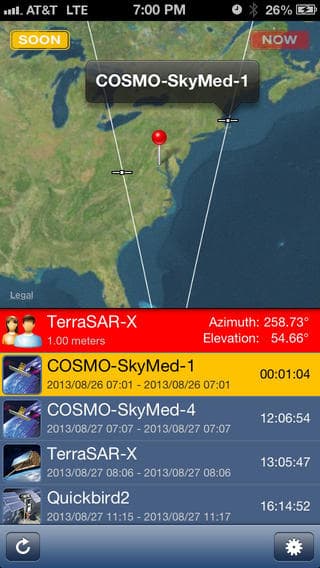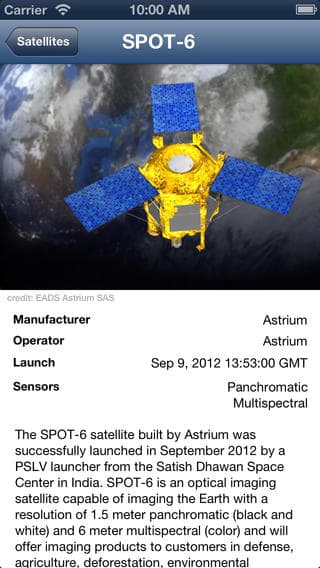 ​
It has been noted that the SpyMeSat app uses available public information about commercial and international imaging satellites. No classified imaging satellites, from any nation, have their orbit information published, so these satellites do not show up in the app. It also uses orbit data from the North American Aerospace Defense Command (NORAD).
In the recent version release notes, the developers have mentioned that if you set the default calculation period to 24hours, you're more likely to see a satellite pass. Users have to make sure that their phone doesn't go to sleep while it's calculating or it will start all over! If you've already installed SpyMeSat, we would really like to read your reviews. Shoot them in the comments section below.
UPDATE:
The app is targeted especially for consumers outside the aerospace, defense, and intelligence communities. The app user can drill down to see additional details about each imaging opportunity, and the app provides a page describing each satellite for those who want to learn more.
In SpyMeSat the user sets their position via location services or dropping a pin. The app has settings to hide or show specific satellites and to enable or disable notifications and alerts. Custom solutions for SpyMeSat can be created for any constellation of satellites. With a custom SpyMeSat solution an option is available to request imagery from any or all satellites in the constellation.
Link to Download:
iTunes Stores
Posted in:
#Gadgets