CrazyEngineers V4: Early Access
We are developing the next version of CrazyEngineers. If you wish to receive latest updates and early access, click the link below.
Home

>

Apps

>

Groups

>
Spritz App Makes You A Fast Reader
Question asked by Dhananjay Harkare in #Coffee Room on Mar 9, 2014
Are you working on your reading speed? If yes, well you must try this app. Spritz is a latest app developed by Frank Waldman, Maik Maurer and Jamie Locke - that aims at changing the way people read and make communications faster, easier and effective. The company is a Boston based startup which focuses on text streaming technology and its integration into modern communication.
Founders of Spritz believe that the time is consumed for normal reading because of eye movements from word to word and from one sentence to another. Also the way we read consumes a lot of physical space. The Spritz solves both of these problems. The app makes user read only one word at a time and hence user need not to move eyes word-to-word. With Spritz, user doesn't see the entire page or the sentence, but just 13 characters of the text. The fast streaming of the words make reading easier and comfortable. Reading becomes unpleasant when the screen size is smaller. Spritz also solves this problem as only a word is to be read inside the display-window called "redicle". The display time of a word is decided by the use of proprietary algorithms.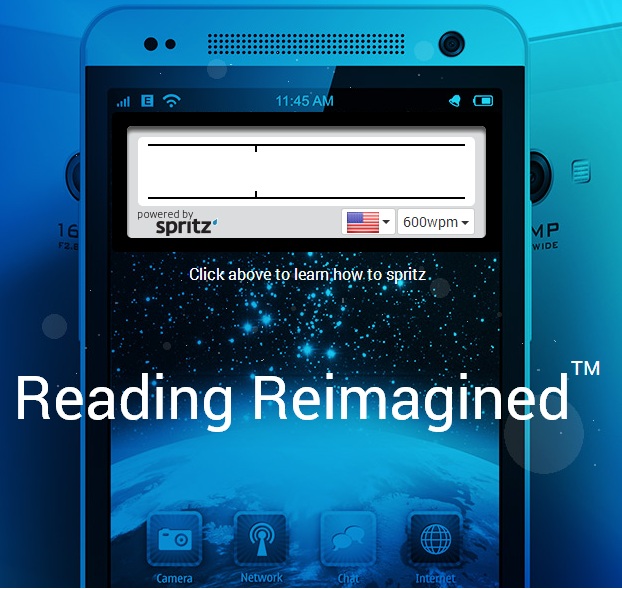 ​
According to Spritz, the other techniques to improve reading speed such as skimming (reading important words, rather than all words), avoiding sub-vocalization (talking to yourself while reading), reading entire page just by taking a mental snapshot etc takes time to develop reading. Whereas, with Spritz, skill can be developed merely in five minutes. However these methods still includes traditional reading requiring physical space. The app allows user to choose the speed of word streaming ranging from 250 words per minute to 600 words per minute and also to translate the text.
How do you like the features of the Spritz app? Share with us in comments below.
Source:
Spritz
Posted in:
#Coffee Room