Samsung W789 Hennessy Android Flip Phone Launch Happens In China
Samsung Electronics, China has today launched a new Android phone called the Samsung W789 Hennessy. This dual-screen clamshell device is the Android flip phone that everyone has been waiting for. Samsung, the South Korean giant has officialy launched this flip phone in China. The phone features two screens - external and internal - of 3.3-inch each, with a resolution of 320 x 480 pixels. It runs on Android 4.1 OS and has a 5 megapixel camera. Being powered by a 1.2GHz quad-core processor, the phone supports a microSD card and lets you expand its memory.
The Samsung W789 supports both CDMA and GSM bands. The phone is packed with a 1,500 mAh battery. Other features include Bluetooth, USB 2.0, GPS, and WLAN. The phone will come pre-loaded with Samsung Apps, including its measaging service ChatON.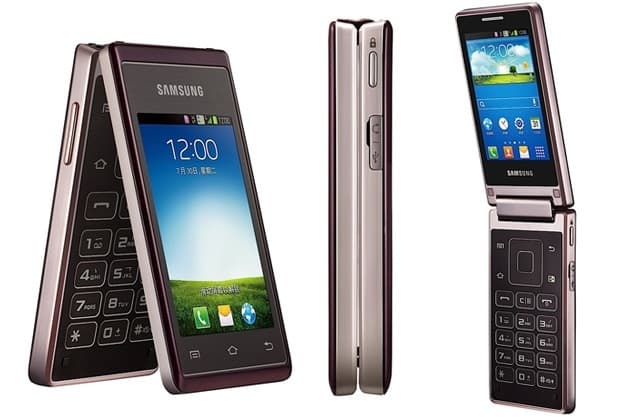 ​
Though most of us are now used to the phablets or the big-screened smartphone that are populating the Android market, there are chances that this old-styled phone could become popular with the masses on the account of its features. There is no official word yet about the price in China or elsewhere and the availabilty, but if the company plans on the price in the mid-range category, this phone might get some good amount of attraction.
Let us know if you feel the same or differently about this phone. The Samsung W789 Hennessy is all set to bring back the good old times.
Replies
Sarathkumar Chandrasekaran

samsung is very revolutionary in this way and android makes it viable for customers.camera and android os are the key features.

The users which still prefer the traditional look of the phones, were stuck on Java based or symbians. they were curious about android but couldn't due to touchscreen-phobia. This model is made for them. Good job samsung. Hope to see better configurations for this model series soon enough.

good product...because some guys are need keybord in android phone and also flip model is stylish one... great
You are reading an archived discussion.
Related Posts
this is the topic related to power electronics. i want to know about operation of this device elaborately with the help of waveforms.
this concept comes under power diodes. can you please explain the basic difference between the two types?
What is the mechanism of push and pull rod suspension
Hello everyone! I am new to php language. I want to know if we install xammp server on our pc . Is there any need to install php 5.5.1 or...
If you thought that the work of tech giants like Samsung, Sony and Apple were laudable in the smartwatch sector, wait till you meet the Hyetis Crossbow. This Swiss-made watch...