Home

>

Apps

>

Groups

>
Robots Developed By Hyderabad Science Society To Save Humans From Under Debris
Question asked by Mrinmoy Swarnakar in #Robotics on Feb 11, 2014
Inevitability of disaster either natural or man-made one is certain. It is common at times like these that buildings collapse (mostly because of earthquakes). Under such circumstances, many times security personnel can't trace trapped victims in the debris. Saving people trapped under debris has been a major problem and most of the time people die because they can't get help at time. So, a year ago the thought of developing a robotic device which would help in finding people to facilitate the rescue operations struck Sanjar Ali Khan and his team from the Hyderabad Science Society (HSS). They developed a robot prototype to do the job.
The robot is one feet long, eight inches wide and around seven inches in height. It has a light bulb attached to it so that it can go deep inside the collapsed building and look for trapped victims. It is also attached with two cameras and voice communication facilities that will capture images and send back the data to those who are supervising the rescue operations.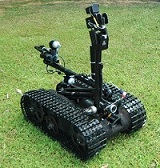 ​
About four scientists of HSS have been working on the project since last April. And presently the robot is under preliminary trials at HSS lab. Since no other robot at this given size carries equipment like batteries, microphone and lights, so the robot is powered using power line and communication system cables, which are used for controlling the robot from a remote place. To avoid the problem of the wires causing hindrance for the robots maneuvering, HSS has ensured that the robot will function through a remote control.
The HSS team expect this work to complete over the next 2-3 months. The robot will come in handy for the police department, defense forces and disaster management teams for saving countless lives in the face of a disaster.
Source:
The Times of India
Posted in:
#Robotics