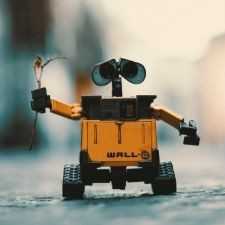 Robotics
Community of Robotics Enthusiasts: Discuss latest robots and questions with fellow robot lovers
608 Members
Join this group to post and comment.
robot
hi CE i want to do pick and place robot for my BE project can anyone suggest me how to go about/ give me some reference/report
By the looks of it, you arent very familiar with Robotics or advance electronics. And by that I dont mean theory, but practical part of it. This might be rude but thats becuase I want to help😀 since I my self am a Robotics freak.

anyway, first off have a VERY VERY clear idea what you want in your project. Not just 'a rover' or 'pick and place'. but have a visulal design in your head! I learnt this the hard way!!! 😀 You shouldnt go thru the same thing. Ask Q like these:

How will the robot know where to pick from, a single place or you input co-ords.

How will it pick? Electromag, clips, claw, hand??

What your desired axis of moment? 3/6/9/ or even 22 which is the human level of control 😀

How will you control it! The most basic and important Q. Microcontroler? PC? Button input?

This is just the outer idea. Next you will have to choose the motors, mechanical design and the appropriate power source for all this.

So dear fellow Robotic enthusiast, now you know how to go about it and ask the right Q so they have an answer 😀

Regards and have fun!
hi
i want to make a articulated robot with 4 degree of freedom gripping type of end effector which can lift about 300gms, in the working area of im dia circle. i want to control it with pc. iam doing mech. engg. so i don't know much about elctronics, now iam working on kinematics of the movements
i plan to use either stepper motor/ servo motor since i don't want to much idea abt elctrnix i plan to buy motor with driver, i want to know how to interface , and once i have the code which will tell angular movement of motors required how to convert the data to the signal for motor
and if anyone have the details/ report of kinematic analysis please send me
my id is
hinimal@gmail.com/nimal_win@rediffmail.com
.
the visual of what i want to make available in the following site
https://www.lynxmotion.com/ViewPage.aspx?ContentCode=videos&CategoryID=17
You really have a nice goal to persue. All this is possible with stepper motors.
Ok here are a few pointers and Ill tell why we cant give you a code because writing, debugging and programming the Kinamatics is no easy task. On top of that you will have to debug your program on each step to be compatable with your PC and types of motors and space and all the physics involved! I can just guide you on how to start. Some links are provided.
Since its 4 axis, you will need 4 motors plus a gripper (now the gripper part is totally out of my area, the design is fully mech, so you can design one or use an electromagnet.
You can directly control your motors through the PC with an interface. Research on that!
Be sure to keep in mind the max torque load your motors will take with respect to the arm length and weight. Research on that.
Now, remember, Robotics is no cake walk, it needs PRACTICE and EXPERIENCE. You ahve to learn and make, or research and make and learn. Robotics cannot be taught, its an art. Even small projects can take weeks and later they can be as easy as connecting a battery!
So, here are some good links:
https://www.lammertbies.nl/comm/
Computer Interfacing

https://www.crustcrawler.com/products/arm5.php?id=menu0sub5
A robotics arm site with a LOT of information

https://www.learn-c.com/
Tutorial on Computer Control

https://www.dprg.org/tutorials/index.html
Some Robotic Tutorials

https://www.nelnick.com/steppermotors.html
Stepper Motor Control

https://www.nelnick.com/hardwaremotr.html
More motor Information