Home

>

Apps

>

Groups

>
Researchers Develop New Technique To Detect Magnetic Fields Inside Stars
Question asked by Ankita Katdare in #Coffee Room on Oct 23, 2015
Similar to ultrasound technique used in medical tests, a team of researchers has developed a technique to detect the presence of magnetic fields inside stars. Based on asteroseismology, this technique can help determine the important consequences in the life and death of stars. Several international researchers including a group from UC Santa Barbara are working on this project to track the waves traveling through stars in order to determine their inner properties. Using the new technique, researchers can now probe the regions of the star that were previously hidden.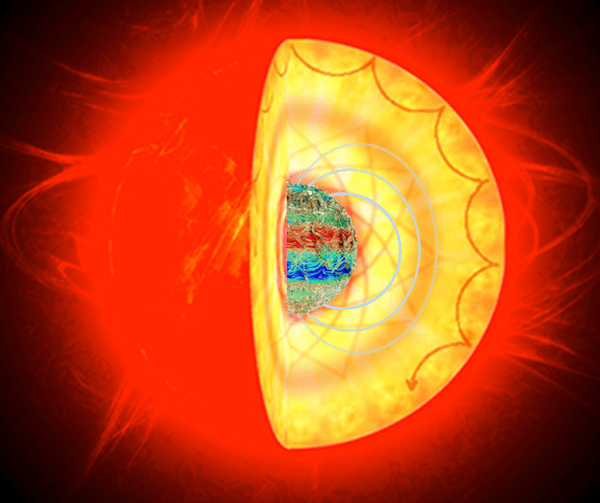 Representation - A red giant star with a strong internal magnetic field.​
The team explained their work with the term 'magnetic greenhouse effect'. This is a phenomenon where a magnetic field can be imaged as a bunch of rubber bands embedded in the stellar gas, which affect the propagation of gravity waves and when the magnetic field is strong, the gravity waves become trapped in the star's core.
The trapping of waves is a result of the incoming wave being reflected by the magnetic field into waves with a lower degree of symmetry, which are prevented from escaping the core. As a consequence of that, stellar surface oscillations have smaller amplitude compared to a similar star without a strong magnetic field.
The researchers from UC Santa Barbara used these observations to measure and restrict the internal magnetic fields for these stars. Their results showed that the red giants have nearly 10,00,000 times the internal magnetic fields as compared to a typical refrigerator magnet.
This new technique can help researchers study the evolution of stars and the properties of their remnants. What are your thoughts about the new research work? Share with us in comments below.
Source:
UC Santa Barbara
Posted in:
#Coffee Room