Home

>

Apps

>

Groups

>
Relation Between 'Globalisation' & 'Value Of Rupee' : Interesting!
Question asked by Kaustubh Katdare in #Coffee Room on Jan 5, 2013
Because 'FDI' & 'Globalisation' are my newfound interests - I continue to gather information on how are they 'helping' India. Contrary to what the economist & Prime Minister Manmohan Singh says, all the findings indicate that Globalisation & FDI are making India poorer & poorer!
One, most obvious indicator, I recently discovered is the effect of 'globalisation' and opening of economy on the value of Indian currency. Check the graph which I obtained from Wikipedia (
Source
) -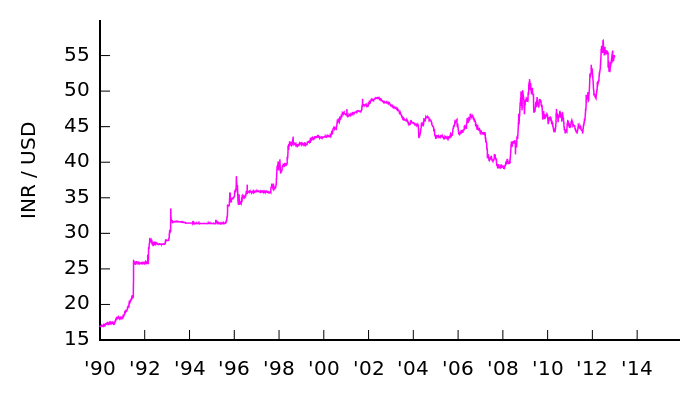 Look at the jump (devaluation) in the price of Rupee against USD in 90-92; as Manmohan Singh opened the economy to the world.
Interestingly, the value of INR was Rs. 5.00 against $1 in 1952 and was Rs. 12.369 in 1985.
The graph until 2012 tells the story of how India's currency devalued against the dollar. Which economic theory says that this is indeed 'great' for India? Anyone?
Posted in:
#Coffee Room
I found this statement The more open your economy is the more common your currency will be in the Global
And we know the saying Commonly got things are way too cheap That is why Rupee has such a poor value in the global market

And can't close with out this "ALL CREDITS GO TO GLOBALISATION"😯
**ssshhh**

The NRIs will feel bad if 1 USD fetches only 15 INR.
All IT big heads will loose jobs as IT companies wont make any profit if 1 USD == 15INR
That might acutally put IT guys pay scale same as all other hardworking people like scietists/ mechanics/engineers/profesors.(oh! It might actually bring down the buying power of the' IT' common man, thus might reduce inflation and make people opt for variety of jobs and follow their interests, rather than running behind IT jobs for better pay)


sorry i digressed.
Guess what? When the rupee gains, the prices of the commodities will fall. That's my understanding of the economics. I might be wrong! Outsourcing will be affected, but that might just give rise to product companies in India that might sell their products overseas.
oh! if products start to be manufactured in india then there might be production and supply chain improvements in India, that might affect FDI, which obviously our country is not looking forward. We are looking forward for using 'Imported from China' stuff.
Well, manufacturing in India is a different issue altogether. In my opinion, opening up economy without first setting up a strong manufacturing & servicing base was and idiotic idea (or conspiracy?). We are totally failing to understand that 'FDI' in basically meant to grow the economy of the countries that are investing in India. Any investment will focus on multi-fold returns and I don't see it helping India anyway.

FDI basically means the rupee gets devalued - which, any finance master will tell you, is *BAD* for the economy. Just look at the balance sheets of the companies that are investing in India - all the foreign companies. The amount of money they are taking out of India is 1000x the money they're investing.

Canadian 'BATA' shoes, for example. Tell me which 'technology' have they brought to India or for that matter, tell me what 'rocket science' is required to make chips and corn flakes? But look at the profits these companies are making - which basically is owned by the foreign nationals!
btw... this is interesting... moreover i haveone point though...
globalisation and devaluation started at around the 80s and early 90s when whole India was in a verge of another drought (remember green and white revolutions in 80s in India).. and globalisation was in 1991 but the IT industry got into this race in 21st century only... (common... India got internet in 1995 if u guys remember).

the IT professionals are being billed at some 'x' dollars per hour while their counterparts all over the developed countires (to which they go to work) are billed at '2x' or '3x' dollars per hour. our manpower valuations are also devalued not only INR.
"India is a land of huge market and highly available cheap labour "- 6Th Grade history class
Right, the question we need to be asking is 'Why the hell did we apply for the loan from World bank?', after we got independence? Or was it the systematic 'hand over of the rule' from the Brits to the Indian Congress so that the western countries still keep 'check' on India & its finance? We need a serious thinking!

The salaries Indian engineers get as compared to what the rest of the world (developed one) can send shocks through the brain. Thankfully, our PM considers this as 'development'.
I think, all our politicians will search for solutions which can take quick action to the problem but they eventually turn out to be a bigger problem at a later point.

This was the case when we opened markets for the world.

To quote a recent example, about 2 years ago our late former chief minister YSR (State Andhra Pradesh) has introduced free power to people which was one of the reason the power companies went into losses.

Now government is seeing different ways to get that money back, one is we are paying sur charge on the power we are using and that adjustment is of last years. I mean we are paying money for the power we used in last year (2011) sept onwards.

The second one is , the way the power bill is calculated is changed which now will make common man suffer.

to give an example one person who is using 120 units was paying around 250 INR , now he has to pay around 650 INR.

So a quick solution for giving power for free for votes or whatever has created a major problem across state.

The FDI is a bigger problem and it is creating bigger problems.