Home

>

Apps

>

Groups

>
Red Button Public Robotic Spectrum - An Innovative Way To Check Crime
Question asked by Kaustubh Katdare in #Robotics on Aug 15, 2015
Say hello to the Red Button Public Robotic Spectrum aka RBPRS - India's first ever high-tech system to keep the crime in check. The police at Aluva, a town in Kochi and a private IT firm Red Button have jointly set up a system that promises to help people seek police help 24x7, instantly. The system comprises of a 10 meter tall pole equipped with sophisticated electronics that can record visuals with an IR HD camera fitted atop and send the information quickly to the nearest police control room.
The RBPRS system requires only about a square meter of space for installation, and hence can be installed at multiple locations. The system has been designed in such a way that as soon as the button is pressed, it will inform the police of the exact location at which the button was pressed along with the audio-visuals of the surrounding area. The system will also relay all this information to nearest flying squad.
The vehicles of the flying squad will be equipped with displays to show the visuals from the crime scene. Mohan PR, the chief executive of the Red Button company informed that the cost of the pilot project has been estimated at Rs. 4.5 lakh and the company will bear the cost. If the pilot is successful, the police department will take a decision on expanding the reach of the Public Robotic Spectrum System.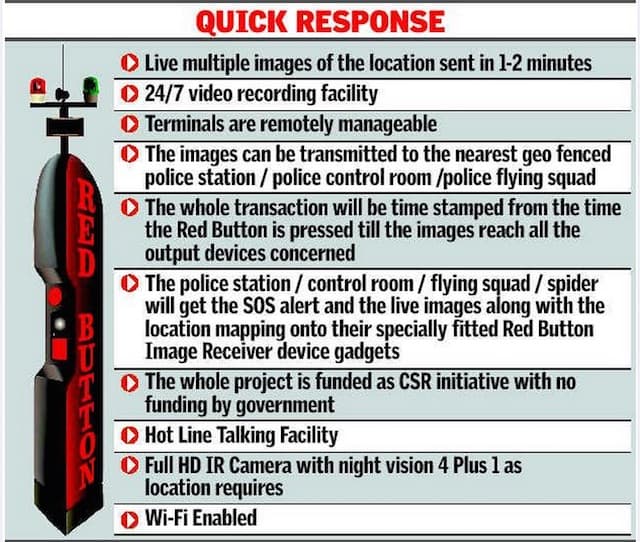 ​
The system is also capable of alerting the towers in 2km periphery, so that each of these towers can start recording videos and relay the information to the servers at the police control room. This feature will be disabled during the trial runs of the system. The visuals sent by individual RBPRS system will be stored on the central server for a period of 15 days.
Other notable features of the system include SOS alert facility, location mapping, time-stamping of the images and videos along with a hot-line talking facility. Each of the RBPRS system will be wi-fi enabled as well.
We like the approach taken by the police in associating with the Red Button. In case of an accident or a chain-snatching event, the victim or anyone nearby just has to press the button and the system will immediately start capturing information that can help police and other authorities take immediate actions.
Source:
The Hindu
Posted in:
#Robotics