Home

>

Apps

>

Groups

>
PS4 Upgrade : 1TB HDD, Better Power Management & Weight Reduction
Question asked by Kaustubh Katdare in #Coffee Room on Jun 2, 2015
As expected, we've an interesting leak just before Sony's E3 event scheduled on June 15th. The PlayStation 4 is likely to receive a hardware upgrade with 1TB of hard disk drive, better power management systems and a light-weight design. The curious information seekers have found out an
FCC Filing
that hints at the upcoming specs of the new PS4. The leak comes just after the news about Microsoft's XBOX ONE with Independent Developers Pack with a new controller.
The PS4 hardware had impressed all the gamers at the time of its launch. However, with the modern console games becoming more graphics and data intensive, most of the gamers found out that the existing 500GB disks got filled up really fast. The modders found out a way to replace the existing HDD with one with larger capacity; but that's not everyone's cup of tea. Sony's listened to the gamers community once again and seems to have decided to add extra storage to the new PS4 machines.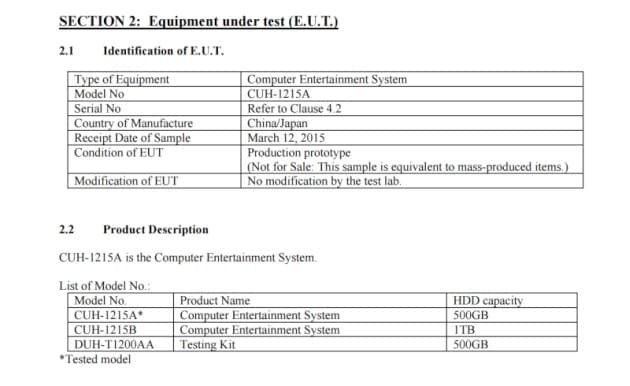 Sony Playstation 4​
Many users of
NeoGAF
forums have noticed that the new PS4 machines are likely to be lighter and have better power management than the original playstation 4. Some of the users speculated that the new PS4 may drop the blu-ray drive; but we'd rather believe that Sony's engineers have cooked up a better overall design.
Engadget
points out that the new hardware may not have 5GHz Wi-Fi support; which could be troublesome for the users who live in apartments flooded with wireless networks. The new machines are likely to be announced at the Sony E3 events. We will keep you posted.
Posted in:
#Coffee Room
Update: Everything we speculated above is true. New Playstation 4 with 1TB HDD and better power efficiency is launching next month.
There is no clear update on the pricing of the new Playstation.