Home

>

Apps

>

Groups

>
No background in Engineering. Bet my friend I could design this circuit. Looking for some guidance!
Question asked by Jackson Lawrence in #Electronics on Jul 18, 2016
Hey everyone! This is my first post here so take it easy on me!
Before I get into the circuit I'll give a little backstory here. I'm a business student at a US college right now and I have a good friend who is a Biomedical engineering student. We were arguing about whether or not I would be able to do what she does in her classes. Being rather impulsive and slightly overconfident, I bet her that I could design the final project from her toughest class in two weeks. That may have been my first mistake, but I consider myself a smart guy and I love a challenge like this especially since I've always had an interest in learning about circuits. If I pull it off, she's agreed to take me on an all expenses paid long weekend vacation to wherever I choose so I'm pretty motivated and since it's the summer I have plenty of time on my hands to do it. The rules are I can use any help that would have been available to her when she was taking the class (so forums, any software, my engineer father etc...) and I must use the materials in the kit from the class and it has to satisfy the rubric with a passing grade
Now onto the technical stuff. Keep in mind I have NO background or experience in much science at all honestly so this stuff may as well be in Chinese to me at this point. I've uploaded the rubric for you guys to check out. I imagine it must seem pretty basic to you as professionals in this field so I'm hoping that some of you may enjoy this story and decide to guide me a little in this endeavor.
Here are my questions so far:
Where should I start? What concepts should I begin by learning that are necessary for this circuit?
What software should I download?
And, in general, if you were in my position what approach would you take in taking on this challenge?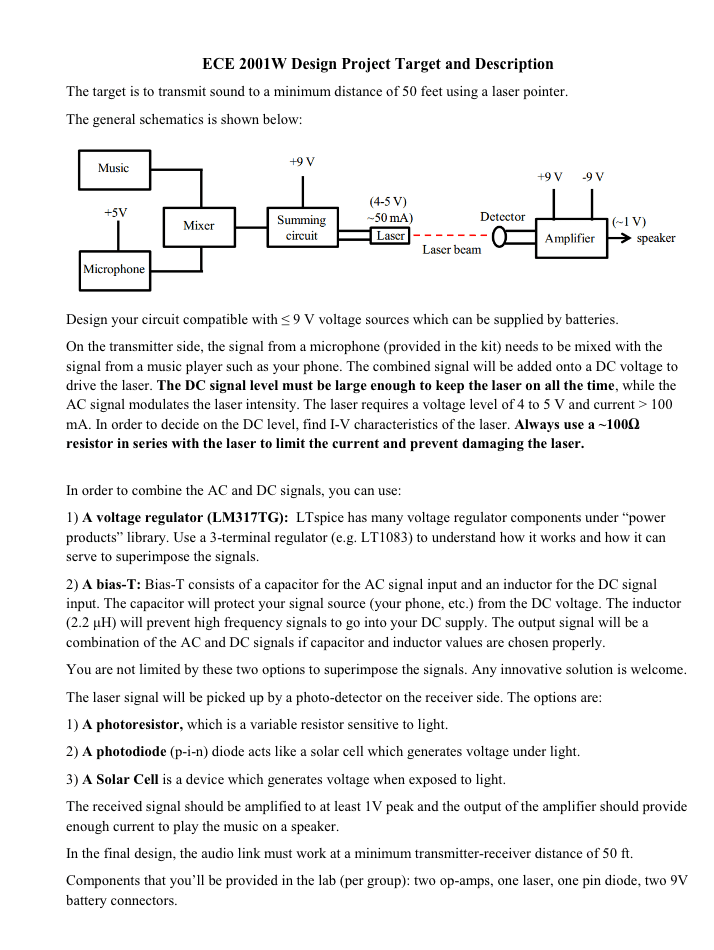 Posted in:
#Electronics
@Jackson Lawrence
:
First of all welcome to CE.
Based on Project Target and Description it looks like your college have a very well hardware kit for the same task and there is also detail given which part you need to use in which section.
For example LM317TG and A bias-T detail is for Transmitter section while photoresistor, photodiode are recevier section.
But I am sure you will need few other components also but that is going to be very specific to your kit and parts you are going to use.
Have you checked if this task is also having any schematic diagram or not? If you get that then share it and I will try to explain the use of each parts.
If you want to start learning about the theory then you can start with how photodiode works this video might help you.