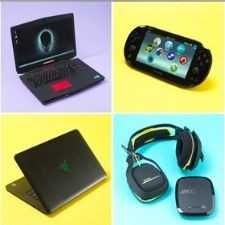 Gadget Geeks
Discuss all electronic gadgets - ask questions, doubts, troubleshooting tips et al. to fellow gadget geeks.
647 Members
Join this group to post and comment.
NFC Enabled Business Cards From MOO - Android App Coming Soon!
The near field communication aka NFC fans were highly disappointed by Apple's plan to drop it from iPhone 5 (and maybe reveal it as 'exciting new feature' in iPhone 5s) but
NFC
isn't phasing out. In fact, it's rapidly making its way in to our lives and we're quite sure all the future smartphones to be released in the next few months will have NFC out of the box. But Android people may rejoice because their choice of NFC enabled stuff is growing day by day and the latest one not to be left out is NFC enabled business cards. Yes, UK based MOO has launched the business cards that have the microchip and antenna included right inside the card. And the best thing about it - it's giving away one NFC business card free with every bundle of cards ordered from them.
Moo's been our favorite business card company for a long time. The company started its operations in 2006 and has been focused on bringing innovation and creativity to business cards to make sure that the business cards don't go out of fashion. The company had launched Facebook Business Cards earlier this year and now has come up with an innovative way of sharing your contact information. They've added NFC capabilities to the business card that make it zappy to share your contact information. No, you don't have to hand over your card to your new contacts; just a tap on the NFC powered phone will do the trick. Plus the amount of information you can share is much more than your regular business card will ever hold.
NFC is a new type of radio communication that operates in the short range - approximately 4 centimeters. You'll have to bring the NFC powered gadgets very close to establish a connection between them. The data transfer rate is also limited to 106 kbit/s to 424 kbit/s and is typically being employed in modern payment systems.
Moo's engineers have included the NFC tag inside the business card and the information you store on the tag can be updated. You can store your photos, social networking account information, email addresses, postal address and all such information in the card. In order to share the information, all you'll have to do is tap the card on an NFC powered phone and the phone will immediately collect all the information.
Moo is currently in the process of developing a dedicated android app to work with the card. It's offering over 150,000 cards under what they call as 'the open beta test' and will be shipped to you along with every order. We recommend it to all the crazy engineers out there.
We believe that NFC powered business card open a whole new world of opportunities in sharing of business information. The card address the most common problem associated with business cards - they aren't effective unless the contact is made in the first 48 hours of exchange. We would like to leave you with a demo of the Moo business card with NFC -