Home

>

Apps

>

Groups

>
Next Gen USB Type-C Connector Is Reversible - Use It Downside Up Or Upside Down
Question asked by Ankita Katdare in #Coffee Room on Dec 4, 2013
The USB 3.0 Promoter Group has declared that the work on the next gen USB Connector has begun and is expected to be ready for industry review during the first quarter of 2014 and be completed by the middle of 2014. The USB Type-C connector is being designed to work on thinner and sleeker product designs as well as being reversible. Meaning that, the new kind of USB connector will accept the plug either way up. You will be able to plug the USB connector in your device no matter which side of it you're holding up. It will be similar in size to the USB 2.0 Micro-B plug found on most modern cellphones, and will support scalable power charging. In comparison, the USB 3.0 Micro-B plug is wider than that for USB 2.0 devices. The USB 3.0 Promoter Group which includes members from Hewlett-Packard, Intel, Microsoft, Renesas Electronics and Texas Instruments announced the key characteristic of the USB Type-C Connector.
The biggest advantage of the new reversible USB Connector is that the users no longer need to be concerned with plug orientation/cable direction. And all these time you could never plug the USB in the first go, remember? As far as the scalability is concerned the connector design will scale for future USB bus performance. "While USB technology is well established as the favored choice for connecting and powering devices, we recognize the need to develop a new connector to meet evolving design trends in terms of size and usability," said Brad Saunders, USB 3.0 Promoter Group Chairman. "The new Type-C connector will fit well with the market's direction and affords an opportunity to lay a foundation for future versions of USB."
This shall never happen again -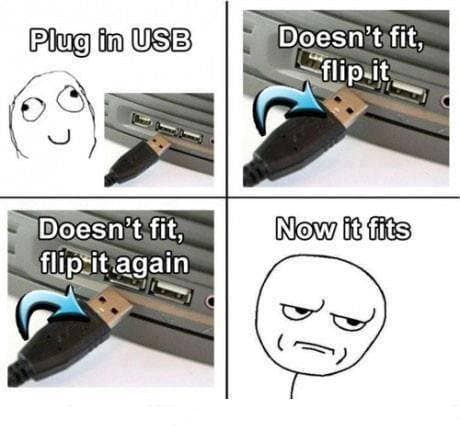 ​
Just like the Apple's Lightning connector used in the iPhone 5 and newer iPads and iPods, the next generation USB Type-C plug and socket will fit both ways. The group aims at providing a single standard thin connector to be used across all devices from phones and tablets to laptops and desktops for delivering data, power and video. "The new Type-C connector furthers USB's lead in addressing customer desire for more flexibility and higher performance," said Roland Sperlich, TI Consumer and Computing Interface Product Line Manager. "This allows USB to increase performance and continue to deliver ease of use to several evolving product categories for years to come."
The new specification will also support scalable power charging and provide a platform for development of more advanced USB bus performance enhancements, the USB 3.0 Promoter Group. How do you like the idea of a hassle-free two way usable USB Connector? Share your thoughts with us in comments.
Posted in:
#Coffee Room
If anyone is going to buy any super-thin devices, it is great news that now the new equipment will have the type C built in, plus for existing thin slim trim devices will have adapters.

Any thoughts on the new connector?