Home

>

Apps

>

Groups

>
New Shape-Changing Soft Robot Functions In Water, Snow And Even Flames
Question asked by Ankita Katdare in #Robotics on Sep 5, 2014
A team of researchers from Harvard and Cornell University has come together to develop a new kind of untethered, soft robot that walking using 4 legs and changes shape on the commute. The awesomest feature of this autonomous robot is its ability to operate through puddles of water or a snowstorm, endure limited exposure to flames and even be alright when run over by an automobile. The team from Wyss Institute for Biologically Inspired Engineering, and Department of Chemistry and Chemical Biology, at Harvard University and the School of Mechanical and Aerospace Engineering at Cornell University have published a paper titled 'A Resilient, Untethered Soft Robot' detailing their research work.
The researchers used innovative composite materials such as silicone elastomer, polyaramid fabric, and hollow glass microspheres to fabricate the soft robot that is able to carry miniature air compressors, battery pack (that runs the robot for several hours), valves, and controller (in short, payloads up to 8 kg), thus facilitating its own autonomous operation. They developed new fabrication techniques to mold a 0.65-meter-long soft body with modified Pneu-Net actuators that work at the elevated pressures on 4 legs. The robot's body is so designed that it stays resilient to adverse environmental conditions as mentioned earlier.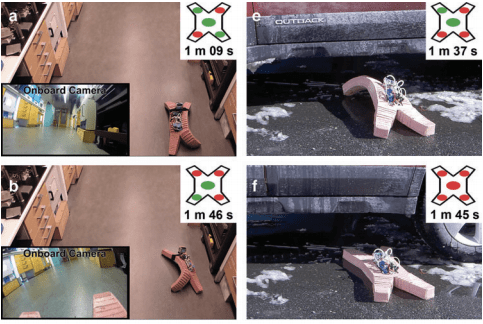 ​
This quadrupedal soft robot walks at a speed of 18 m/hr on a flat surface and is capable of audio and video sensing. Their experimental design is still at a prototype stage and the team shares that selection of elements resulted from a set of empirical tradeoffs and therefore their design does not yet represent a full optimized set for any specific application. The team is however confident that their work can give a starting point for the development of a family of untethered soft robots.
Take a look at the following video put together by folks at NewScientist -
Though the field of
soft robotics
is considerably new, it is fast picking up the pace. What are your thoughts on the latest soft untethered robot? Share with us in comments.
Source:
Research Paper
Posted in:
#Robotics