Home

>

Apps

>

Groups

>
NASA To Send 14 Palm-Sized 'CubeSats' On Future Space Missions
Question asked by Ankita Katdare in #Coffee Room on Feb 9, 2015
A new class of research spacecrafts known as 'CubeSats' are being readied for future space missions. About 4-inches in length, the Cube shaped Satellites weigh not more than 3 pounds are also known as nanosatellites. Under NASA's CubeSat Launch initiative (CSLI) these CubeSat payloads can fly on rockets planned for upcoming launches. Under the CSLI initiative, NASA is encouraging teachers and students to participate in the STEM disciplines with their research work. The CubeSats will enable education research, various technology demonstrations as well as science missions. Space enthusiasts can use them to study a wide range of topics such as how the solar system was formed to more advanced technologies such as a new radiation-tolerant computer system.
So far, many CubeSat missions have been flown with ELaNa-I in 2011 to ELaNa-X mission as recent as January 31, 2015. NASA researchers have selected 14 CubeSats from various different states for upcoming rocket missions that are scheduled to launch in the next 3 years till 2018. These CubeSats come from various universities, NGOs and NASA Field Centers across USA. With the CSLI initiative, NASA hopes to involve the entire nation in their future endeavors and the march towards various space exploration goals.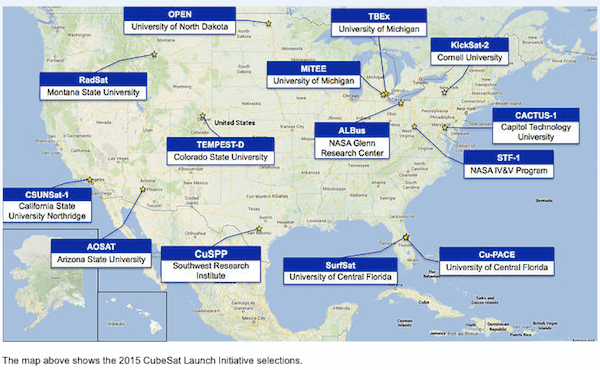 ​
NASA is aiming for having d50 small satellites from all 50 states sent up to the space in the next five years. Among the various organisations sponsoring these nanosatellites are Arizona State University, Colorado State University, California State University, NASA's Glenn Research Center, University of Michigan etc. to name a few.
Last year, around the same time in February,
ISS released Flock-1
- A fleet of 28 miniature satellites. The Flock-1 project was a brainchild of Planet Labs, a San Francisco based organisation. Each CubeSat was called 'Dove' and was capable of capturing images of Earth from various angles and later transmitting them to the ground control station.
Update: Highlights of the CubeSats from various organisations -
Asteroid Origins Satellite is a science laboratory that will be the world's first CubeSat centrifuge.
California State University Northridge Satellite is to test an innovative low temperature capable energy storage system in space.
The Coordinated Applied Capitol Technology University Satellite (CACTUS-1) is a technological demonstration of a cost-saving communications and commanding innovation.
KickSat-2 is a CubeSat technology demonstration mission designed to demonstrate the deployment and operation of prototype Sprite "ChipSats" (femtosatellites).
In partnership with the University of West Virginia, the Simulation-to-Flight 1 (STF-1) mission will demonstrate the utility of the NASA Operational Simulator technologies across the CubeSat development cycle, from concept planning to mission operations.
So far, NASA has launched 36 CubeSats under the Educational Launch of Nanosatellite (ELaNa) Program. In 2015, four separate ELaNa missions will carry seven CubeSats. What are your thoughts on that? Share with us in comments below.
Source:
NASA.gov
Posted in:
#Coffee Room
Wondering if any Indian universities could participate in the development of CubeSATs to be sent into the space...