Home

>

Apps

>

Groups

>
NASA Develops 'Rodent Habitat' To Launch Rats Into Space Aboard SpaceX Dragon
Question asked by Ankita Katdare in #Coffee Room on May 26, 2014
The engineers at NASA have been long working on developing technology that can enable sending live animals into the space and on other planets. This time the news has it that they've developed what's being called the 'Rodent Habitat' that will be used to launch the rats aboard an unmanned SpaceX Dragon cargo ship into space in August this year. The engineering & research team at NASA's Ames Research Center in Moffett Field, California have developed this Rodent Habitat that aims to make the stay of multiple rodent species comfortable on their long duration journey and stay in space. The scientists at NASA believe that sending these rats to space will help us better understand the precautionary measures that will be necessary for man to travel to other planets in the galaxy.
Using the Rodent Habitat, the NASA team has built a complete suite of equipment that will facilitate the transportation to International Space Station (ISS) and the accommodation of animals. The primary component will be the Animal Enclosure Module-Extra (AEM-X). Once there, the rodents will help the researchers in studying the long-term effects of microgravity on mammalian physiology. Here's what the Rodent Habitat looks like -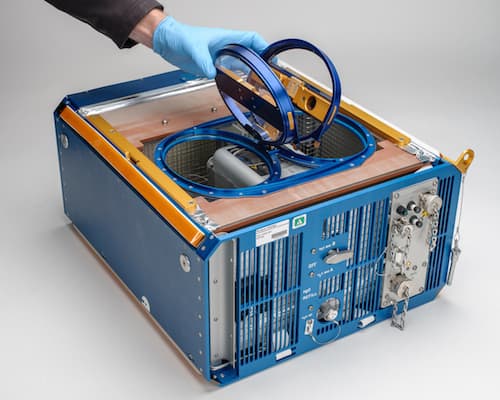 ​
This hi-tech advanced rat cage will have a "transport module", that fits inside the racks in the pressurised cargo section of the Dragon spacecraft, and an "access module" for moving the rodents from the transporter to the station's rodent habitat without letting the mice escape and make themselves at home behind the control panels. There's also modules for "data downlink capability" that enable monitoring of environmental conditions such as temperature. A visible light and infrared video system will help the crew in space as well as on Earth to monitor the health and behavior of the rodents everyday. Each Rodent Habitat has the capacity to hold 6 rats or 10 mice and provides the basic necessities of water, food, lighting and fresh air.
Do take a look at the video shared by the NASA team here -
What do you think of the rodent habitat? Share with us in comments below.
Source:
NASA
Posted in:
#Coffee Room