Home

>

Apps

>

Groups

>
NASA 3DV App For iOS Users - Now Explore Space And Beyond On The Go
Question asked by Ankita Katdare in #Gadgets on Jan 29, 2015
If you are a space and cosmos enthusiast, you must've been keenly following the projects of NASA, ISRO and other space research organizations. And now if you are on a iPhone or iPad, you could explore the different aspects of NASA's human deep space exploration using the NASA 3DV mobile app. Right from the low-earth orbit to the outer space, from planets like Mars to asteroids and beyond, the 3DV app lets you delve deeper into the projects being worked on by NASA. The app is divided into three parts - the Model Viewer, the Scene Viewer and Augmented Reality. Let's find out what all functions are possible with the NASA 3DV App.
With the NASA 3DV model viewer, users can explore some of the critical components of NASA's human deep space program. Users get to choose a vehicle that can be your carrier to various locations. Controlling it is possible via rotate, pivot or pinch to zoom functions. Whereas, the 3DV Scene Viewer lets you get up and close through a fixed point in space. Users can move their device around to look up, down and around. Users will feel as if they are standing on the Operation & Checkout facility's launch platform or even 200 feet in the air on the catwalk leading to the Orion crew module. Isn't that something?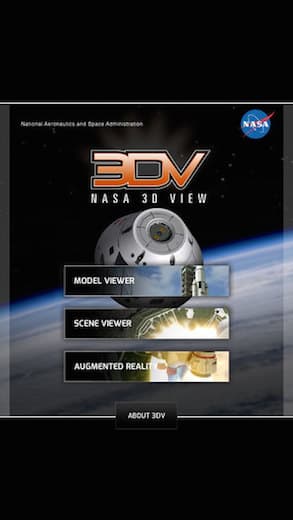 ​
Last but not the least is the 3DV Augmented Reality Viewer lets you select one of the several options, such as the Space Launch System or the Orion crew module or the massive crawler-transporter and you won't know if what you are watching is real or virtual. The reviews of the app so far suggest that it's a success among the users. Praising the Augmented Reality feature, a reviewer noted that he is overly impressed with the app's features. The 3DV app features stunning graphics and if you are interested in knowing about NASA's upcoming missions, you ought to get this app for your iOS device.
To be able to view the 3D models of the SLS or Space Launch System and the Orion spacecraft from the comfort of your mobile device is an achievement in itself. Launcher is under way at NASA's Kennedy Space Center in Florida for the SLS. One can visit the 3D model of this mobile launcher too. The 3DV app also also shows the virtual models of the crawler transporter that carried the Saturn V moon rockets and space shuttle to the launch pad.
Check out the following video demonstration about the NASA 3DV App -
If you are planning on using the iOS App, it is recommended that you print out the "3DV App Marker" before you begin exploring the various features.
Source:
NASA Official
|
iTunes Store
Posted in:
#Gadgets