Home

>

Apps

>

Groups

>
Microsoft's Cortana Is All Set To Battle Apple's Siri, Google Now And S Voice
Question asked by Jason Estibeiro in #Gadgets on Apr 3, 2014
Microsoft plans to take on Siri, Google Now, S Voice and all other voice assistant software, by coming out with their own smartphone assistant, "Cortana". This software is one of the prime features of the latest Microsoft Windows Phone 8.1 update and it increases the accessibility of a Windows Phone by a great margin. The name 'Cortana' has evidently been taken from a character of Microsoft's famous video game, Halo.
The voice assistant was introduced for the first time on stage by Joe Belfiore at the BUILD keynote and this confirmed the previous leaks about the Windows Phone 8.1 update with
Cortana
and
Notification Centre
. Making a live demonstration of Cortana onstage, Joe explained that the software gets better over a period of time as it gets to know its users more personally. It appears as a hollow ring when it has notification for the user and it uses different voice modulations to express its happiness and sadness in accordance with the news. For instance, it will become happy when your favourite team wins and will express a sad tone when it loses.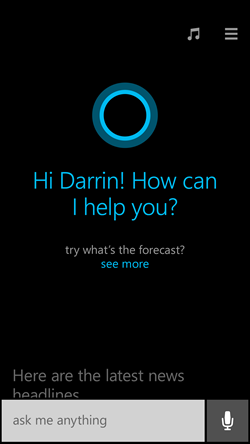 ​
While setting up the software for the first time, it will ask for information about you as well as get access to your email addresses, your likes and other personal stuff. An interesting feature is that - Cortana's users can choose what information they would like to share with it and this data will be stored in a Notebook. The user can edit the notebook according to his preferences by adding or removing entries at any time. On the basis of this information, it will provide alerts the user. It is also stated by Microsoft that third-party app makers can use Cortana APIs which can be used to execute actions in the application.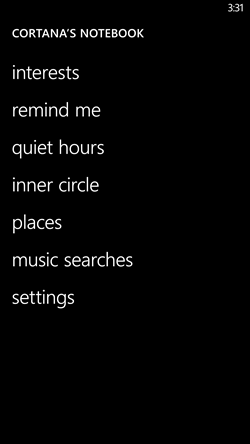 ​
The Halo-inspired assistant is powered by Bing and its numerous platform services. Unlike Siri, when Cortana is inquired about the best restaurant in the area, instead of a series of restaurants, it displays only a single result based on its Yelp rating. Just like a real assistant, it has reminders based on contacts stored in your phone. If you set a reminder regarding your friend, Cortana will tell you about it when you get a call or a message from the same friend.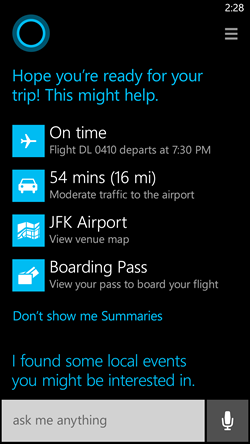 ​
We found that the most striking feature of Cortana is its stepped voice search feature. It has the ability to recognise, when the user asks questions related to the previous query. As stated in FirstPost, after inquiring about the weather in London if you receive the value of the temperature in Farenheit and you would prefer it in Celsius, if you say a simple line like "How about in Celsius?" without repeating the entire question you will get the required answer.
Microsoft has promised continuous updates for the app as time passes. For the time being, Cortana will be beta-mode and released only in the US after which it will be followed by other countries like the UK and China. Cortana is expected to arrive in India in 2015.
Via:
FirstPost
| Source:
Windows Phone Blog
Posted in:
#Gadgets