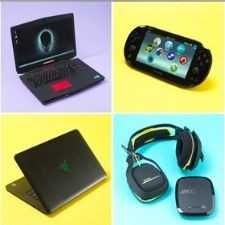 Gadget Geeks
Discuss all electronic gadgets - ask questions, doubts, troubleshooting tips et al. to fellow gadget geeks.
645 Members
Join this group to post and comment.
Microsoft Xbox One Is A Powerful, Improved and Stylish Successor to Xbox 360
After string of
leaks
and
potential names
, Microsoft has unveiled its new gaming console, the Xbox One. In its new sleek design it packs in an 8 core x86 AMD processor, 8GB DDR3 RAM, 500 GB hard drive, a Blu-Ray drive and USB 3.0, Wi-Fi and Wi-Fi Direct and HDMI in/out. The new Kinect has now been upgraded to have a 1080p camera, a 250,000 pixel infrared depth sensor and the ability to process two gigabits of data per second. The wireless controller has also been given a facelift with a more ergonomic design along with a new D-pad and thumb stick. On the inside Microsoft has given it a built-in rumble system called as 'Impulse Trigger'.
The user interface has also been redesigned by taking cue from Windows 8 and features Snap view to add multitasking ability to the console, this means that you can use Internet explorer and Skype for Xbox while watching TV or movies and playing games on the same screen. New gaming titles such as Forza Motorsport 5, Call of Duty: Ghosts, FIFA 14, Madden NFL 25, NBA Live 14 and EA Sports UFC were also unveiled in the Tuesday night event. The games on Xbox One have to be completely installed on the hard drive which means you do not have to insert the disk every time you want to play your favorite game.
​
Microsoft has not yet revealed exact pricing and availability details but promised that the Xbox One will make its way to shelves 'later this year'. So who will emerge victorious in the battle of the gaming consoles Xbox One or
PlayStation 4
? Make your predictions in the comment section below.
Source: Engadget & Microsoft
Speaking to games news website Kotaku, Microsoft's corporate vice president, Phil Harrison, said the company would soon announce further plans for pre-owned games. The move will mean Microsoft is able to gain control of what is a massively profitable market in pre-owned games across the world. Possible models for Microsoft could include allowing gamers to relinquish their ownership of a game in order to receive discounts on new titles bought through the Xbox Live store.

👍
I think Playstation 4 Wins. Microsoft, in my opinion, screwed up the whole event by not focusing on Games. But if XBOX users really want 'one' machine to replace their set top box and gaming console, then they may have liked it.

I'd buy a console for 'games'; not because I want to see movies on it. PS3 has been playing DVD and Blu-Ray movies for several years now. PS4 focused on Games and I'm sure once they reveal the consol on June 10, it'll steal the show from Microsoft.

Talking to my set top box isn't really my way of being in the living room.
Just 500 GB ? I expected more than 2 TB,honestly.
Storage is cheap as sex now a days.
Abhishek Rawal

Just 500 GB ? I expected more than 2 TB,honestly.
Storage is cheap as sex now a days.
Don't worry. The USB 3.0 port can help you add external hard drives to the device.
Satya Swaroop Dash

Don't worry. The USB 3.0 port can help you add external hard drives to the device.
Xbox One uses BDR, so each game will be around 35-45 GB. Install 9 games & my HD is full!
So,to install more games, I gotta plug-in external HD to usb 3.0 slot to access more resource ? Well, that's sad.
By the way, Joystick looks awesome!