CrazyEngineers V4: Early Access
We are developing the next version of CrazyEngineers. If you wish to receive latest updates and early access, click the link below.
Home

>

Apps

>

Groups

>
Microsoft SurroundWeb Makes Your Room An Immersive 3D Browser
Question asked by Ankita Katdare in #Gadgets on Mar 10, 2014
A team of researchers from Microsoft has come up with a new technology called 'SurroundWeb' that lets you convert your entire room into a display that can be interacted with. Yep. Microsoft calls it the first least-privilege platform for making it possible to bring an immersive room experience. You can think of Microsoft SurroundWeb as a 3D Browser that can use any surface in the room to project your monitor's display. So now you can display a webpage across multiple surfaces and also adapt its appearance to objects present in that room. The most interesting part of the project is that users can interact with these displays using natural user input.
The research team that includes - John Vilk, David Molnar, Eyal Ofek, Chris Rossbach, Benjamin Livshits, Alexander Moshchuk, Helen J. Wang, and Ran Gal has submitted a paper to describe their work so far. They have introduced two new abstractions in the SurroundWeb project. The first one is called 'Room Skeleton' that enables least privilege for room rendering. Therefore SurroundWeb needs one-time setup procedure to scan the entire room for projectable surfaces in about a minute. The second one is called 'Detection Sandbox' - it allows web pages to register content to show if an object is detected, but prevents the web server from knowing if the object is present.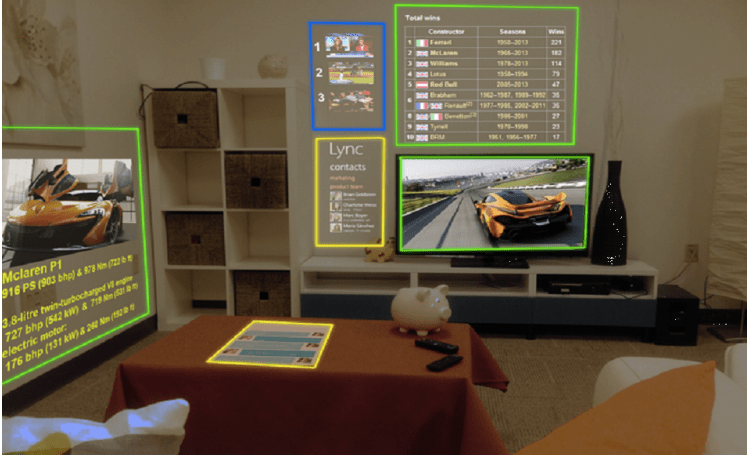 SurroundWeb provides for detection privacy, rendering privacy, and interaction privacy, all the while enabling webpages to use object recognition and room display capabilities. Though this project is still in concept stage, the working prototype developed by the team shows exciting results with immersive multi-display web rooms at greater than 30 frames per second with up to 25 screens and up to a 1440x720 resolution display.
How do you like the concept of SurroundWeb and its applications? Share with us in comments below.
​
Source:
Microsoft Research
Posted in:
#Gadgets