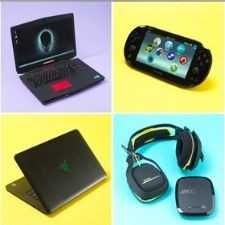 Gadget Geeks
Discuss all electronic gadgets - ask questions, doubts, troubleshooting tips et al. to fellow gadget geeks.
552 Members
Join this group to post and comment.
Microsoft Surface
MS surface must c miracle!!!!!!!!!
Microsoft Surface
pleas visit this web and say abt it...............😕
Microsoft surface is good. They even came up with something like sphere. I still wonder if we'll be using 'surface'. What do you think fellas?
Good one! Nice to see Microsoft coming out with such products.
This idea wasnt by Microsoft! 😀
It was done long back by someone, cannot look it up right now and it can be made at home pretty easily.
Here are two links:
Interactive Multitouch Display
College Student Makes Multi-touch Table Out Of Cardboard Box - Gizmodo Australia
here is an extract from the second link:
Microsoft's Surface multi-touch table sure is cool, but who has US$10,000 to spend on a gadget like that? I personally have maybe fifty bucks to my name right now, so I guess I'll have to fulfil my multi-touch itch with a cardboard box and a webcam like this guy.



Seth Sandler, an undergraduate student at UC San Diego, built a portable multi-touch pad out of a cardboard box, a piece of glass, paper, and his Philips SPC900NC webcam. The camera picks up on the shadows created by your fingers when they're placed on the pad's surface. A tracking software then transfers the motions onto a computer screen. Multi-touch goodness at an incredibly low cost—looks like I can afford to eat this month after all!
Maybe CE can make it someday. 😀
hehe 😛

Funnily enough, the Philips SPC900NC is the same webcam we want to use for our CE Bot *grin*