Home

>

Apps

>

Groups

>
LG Optimus L1 II Specs & Price speak of a $94 3-inch Jelly Bean smartphone
Question asked by Ankita Katdare in #Coffee Room on Aug 11, 2013
LG has launched a new addition to its Optimus L1 series with the introduction of LG Optimus L1 II, a smartphone designed and devised for the Vietnam market. Thanks to its price tag of $94 or 1,990,000 Vietnamese dongs (roughly translates to price in India of Rs. 5,700). Being the lowest priced smartphone by the company till date, Vietnam is going to witness the the power of just-average specs for a decent price. Following Vietnamese people, it will be the folks from Russia and UK that will get to have a taste of the new product from LG. The LG Optimus L1 2 specs have listed a 3-inch QVGA display screen with a resolution of 240x320 pixels. With a processor of 1GHz Qualcomm from Snapdragon on top of a 512 MB RAM, this phone enjoys the Android 4.1.2 Jelly Bean operating system.
For the memory, there is 4GB of internal storage that is expandable up to 32GB with the help of a microSD card. Coming in two colors, black and white - the LG Optimus L1 II has a decent 2 megapixel rear fixed-focus camera and a VGA front camera. The rear camera can record videos of VGA quality at 30 frames per second. Adreno 200 is the phone's graphics processor and with support for 3G networks in addition to GPRS, EDGE, Bluetooth, WI-Fi, Micro-USB and A-GPS, the phone has all the features and tech specs you would want from a phone of 5K INR range.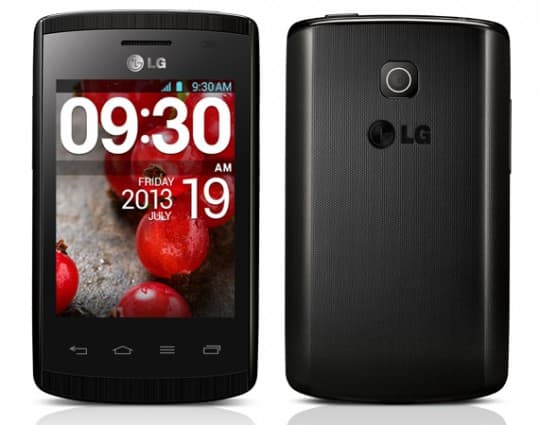 ​
Though one would this phone to have Dual-SIM capability, sadly, there's just room for single SIM. The 1540mAh battery is what boots up the phone and keeps it alive through most part of the day. Coming with a Cheese Shutter and the QuickMemo app, you don't have to worry about apps as Google Play Store is entirely at your disposal. This could be one of the little range of phones that offers the latest Android version instead of Gingerbread or Ice Cream Sandwich at such an affordable price. There's no word about India launch date or pricing for the Indian shores, but if we find out, we will keep you updated.
Posted in:
#Coffee Room
Seems LG still thinks it can make a good mark on the Indian market. Nowadays I dont think people prefer such "mixed" up gadget. They would like the best according to the price tag and I believe this one fits that category
On reading the tag of "Optimus" I initiall thought that LG has built another rich people phone but Lg has showed that it is also here for average people who long for smartphone.
On specs:
*pros - good 1ghz processor,secondary camera,4gb internal storage,android 4.1 jelly bean
*cons - qvga display.