Home

>

Apps

>

Groups

>
Kobo eReaders - Kobo Touch, Glo, Arc and Aura HD Launched In India, Features & Price At Glance
Question asked by Ankita Katdare in #Coffee Room on Oct 17, 2013
Kobo, the eReader manufacturing company, has launched a bunch of its products in India. All eReaders, after tying up with leading bookstores in India such as Crossword and WHSmith as well as with the electronics retailer Croma to sell its devices, Kobo has launched four devices, namely - Kobo Touch, Kobo Glo, Kobo Arc and Kobo Aura HD . As we take a look at the features, specs and price of these gadgets individually, we find a wide range of choice for the buyers. Firstly, all the devices have USB and Wi-Fi connectivity. As we take a look at them one by one, we have the Kobo Touch eReader with n anti-glare 6-inch Pearl E Ink touchscreen priced at Rs. 7, 999. It comes with 2GB of storage, along with support for a microSD card of up to 32GB.
The next one on the list i.e. the Kobo Glo which is priced at Rs. 10,999 offers ComfortLight technology to enable people to read anytime – day or night. The Kobo Glo uses E Ink technology, and its no-glare XGA high-resolution 6" E Ink screen provides an experience that is just like reading print on paper. Then comes a multi-featured Kobo Arc. Priced at Rs. 11, 999, the Kobo Arc has a 7-inch screen and runs a customised Android 4.1.1 (Jelly Bean) operating system. It is a full fledged multimedia tablet with high-definition display and comes powered by a 1.5GHz dual-core processor and 1GB of RAM.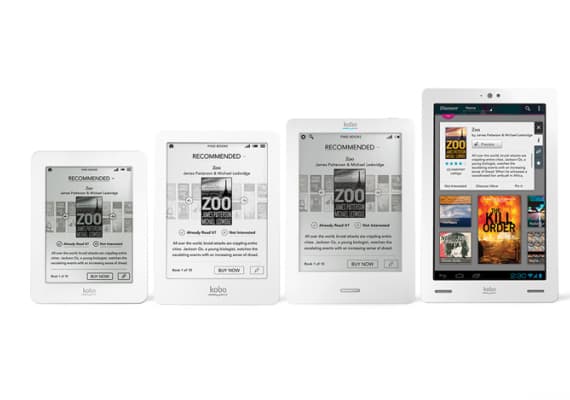 ​
Last but no the least is - Kobo Aura HD, an eReader cum tablet PC priced at Rs. 13,999 that offers the highest-resolution screen available in an eReader today. At 265 dpi, the spacious 6.8-inch Pearl E Ink touchscreen offers 30 percent more reading surface. The device's 1GHz processor makes page turns fly and is the fastest eReader on the market. For buyers, it is good to note that as part of Diwali offer, Kobo is offering special Diwali pricing until November 3 on two Kobo devices. Kobo Arc is available at Rs. 9,999 (regular price Rs 11,999) and Kobo Touch at Rs 6,999 (regularly price Rs 7,999).
"We intend to sell two hundred thousand units in 12-18 months across the portfolio," Kobo Executive Vice President and General Manager Wayne White said. "In order to be successful in India, we will have to customize a device for the market here, which is likely to come next year," White said. Book readers might find an instant connect with the device as the company said readers will also have access to Kobo e Bookstore featuring nearly 4-million titles across 68 languages including of Indian authors such as Jhumpa Lahiri, Ramachandra Guha and Sachin Garg. Kobo is also soon bringing a device that comes with a SIM card slot for mobile connectivity. Keep checking this space for more on this.
Posted in:
#Coffee Room
I have used Kindle (Simple e-reader not Fire one) & it's an awesome. Does the job for what it is designed to do.And Kobo looks no different than that.
People uses Calibre & a plugin to make a pirated downloaded ebook DRM-Free & then can easily store it in Kindle & read it. This is illegal but Amazon doesn't care about it, they knows what people loves. This is main reason why Kindle is hit!
So, I am more interested in knowing whether Kobo's eReaders is as liberal as Kindle is ? (If it's not, then Kobo stands no chance against Kindle)
Here is a link to the Kobo online store -
https://www.kobo.com/devices#ereaders
for those looking to buy the eReaders.
Here is a little something about Kobo Vs Kindle war -
From what I am reading, I have formed an opinion that Kobo eReaders would be value for money.
Kobo and Amazon have the $30 price difference, but they are very similar with features. On on hand, Amazon's e-reader has a cleaner black and white display, Kobo has a more soothing display.
The Kindle has space for around 1,400 books, and the Kobo 1,000. But Kobo has an SD card slot, which can expand your library up to 32GB, or 10,000 books. The Kindle doesn't have an SD card slot! (correct me if I am wrong here!)
If you are okay with NOT getting books from anywhere other than Amazon, the Kindle is a great device. If you want something that is a little more than an e-reader - the Kobo Aura HD is something to look forward to!
Yes I agree kindle would cost more and kobo has its advantage here.