Home

>

Apps

>

Groups

>
Kinect's Sign-Language Recognition & Translation Project - Microsoft Research
Question asked by Satya Swaroop Dash in #Gadgets on Jul 17, 2013
Kinect, the motion sensing input device from Microsoft recently had some bad press due to privacy issues associated with it being "Always On" on the new Xbox One, but even so one cannot deny the fact that Kinect is an incredible invention that is always giving researchers and developers worldwide a platform to create some very interesting innovations. Taking this trend forward, Microsoft Research team in Asia in collaboration with Institute of Computing Technology at the Chinese Academy of Sciences (CAS) have used body-tracking capability of Kinect for Windows to develop software that can both recognise and translate sign-language.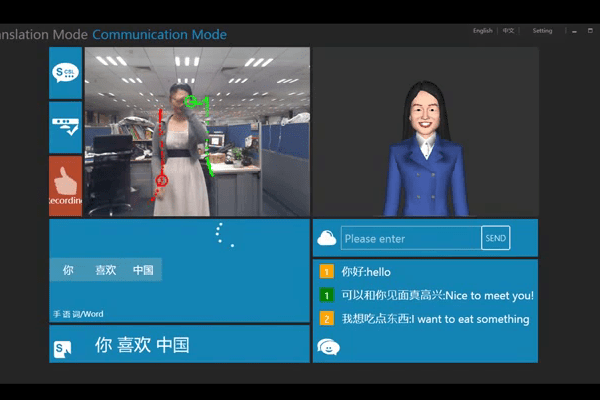 ​
The software tracks hand movements and then uses a process of 3-D motion-trajectory alignment to identify the word being signed. The software has two modes, Translation Mode and Communication Mode. The Translation Mode, as the name suggests translates the sign language into text or speech and the Communication Mode has a 3D avatar that generates sign-language gestures from typed words. This mode will help two-way communication between a person who knows sign language and someone who doesn't. The software for the meantime can only process American sign-language and researchers are confident that it has the potential to work with other languages as well. The team has put up the following video on YouTube that shows a demonstration of American and Chinese sign language translation using Kinect and Bing translator. Have a look.
​
The project was put up on display at the DemoFest arena of Faculty Summit 2013 held in Redmond, Washington, United States a few days ago. If you are interested you may also read the research paper titled
Sign Language Recognition and Translation with Kinect
[PDF File].
Source:
Microsoft Research Blog
Posted in:
#Gadgets
Kinect is really great..!! I played fruit ninja and some car racing games using kinect... It's motion sensors are really very effective..! 👍
The software and the interface in it is beyond comprehension

But some times lags occur that can be quoted to higher speed of motion of your body especially in Fruit Ninga game
Yeah.. but that can be managed.. right ?? 😉
Mehak Rajkhokar

Yeah.. but that can be managed.. right ?? 😉
Yeah as they are really tolerable to a great extent
Mimicing can't get better than that