Home

>

Apps

>

Groups

>
Karbonn Power Banks Polymer 5000, 7000 And 10000 mAh Launched In India
Question asked by Ankita Katdare in #Coffee Room on Mar 24, 2015
With many big players competing in the mobile accessories segment, homegrown bran Karbonn could not be left behind. Karbonn Mobiles has now forayed into the Power Banks segment with the launch of three new power banks named Karbonn Polymer 5, Polymer 7 and Polymer 10 which have powers 5,000mAh, 7,000mAh and 10,000mAh respectively. Though the company promises to bring them at a competitive price-point, we think that they are priced considerably higher than their Chinese competitors Xiaomi power banks. Let's take a look at the features of these power banks, before we move on to the pricing.
The Karbonn Accessories portfolio bring these next-gen Lithium- Polymer portable power banks which are designed to be lightweight and feature an elegant matte finish. All the 3 power banks comes with an inbuilt smart chip for efficient load fluctuation management. The Karbonn Polymer 5000 mAh power bank features a power on/off touch button and weighs about 120 g. Available in colors blue, copper and white, the Polymer 5 is pretty sleek at 8.2 mm thickness.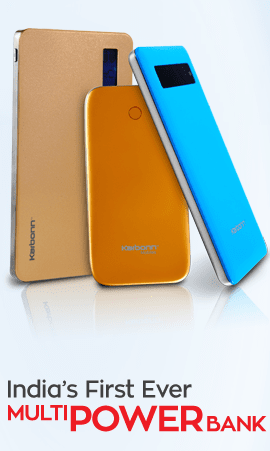 ​
Next ones on the list are the Karbonn 7,000mAh and 10,000mAh power banks, both of which come with dual charging ports so that users can charge more than one mobile device simultaneously. They feature LED indicators to show the current capacity status. Karbonn takes pride in introducing the India's first multi power bank - the Polymer 10, which is a multi-functional device fitted with an LED torch for illumination which also doubles up as a TF card reader. Other than these, the Karbonn 10,000 mAh multi power bank features a sleek LCD display for indicating power capacity.
Karbonn has chosen Snapdeal, the e-commerce portal to sell these power banks online and they will be available for buying starting tomorrow. The Karbonn 5000 mAh power bank is priced at Rs. 999, while the 7000 mAh variant is priced at Rs. 1299 and the 10,000 multi power one at Rs. 1599. What are your thoughts about the pricing of Karbonn power banks and would you get one for yourself? Share with us in comments below.
Source:
Karbonn Mobiles
Posted in:
#Coffee Room