Home

>

Apps

>

Groups

>
Japanese Startup Creates 'Air Bonsai' - A Mag-Lev Powered Tech To Float Plants Mid-Air
Question asked by Debasmita Banerjee in #Startups & Business on Jan 26, 2016
Hoshinchu.com, a Japanese start-up company has launched a Home Décor product called Air Bonsai which is a floating Bonsai plant that uses Magnetic Levitation to float two centimetres above the base. Hoshinchu introduced the Air Bonsai on Kickstarter as a potential project targeting the Japanese consumers. This is expected to be one of the next generation interior decoration products to look out for. Apart from decorative beauty, they also have aesthetic and religious significance in 'Zen Buddhism'.
The Air Bonsai is divided into two parts, the upper half is known as "little star" and the ground half is known as "energy base". Both the halves consist of Magnets that repel each other with the same force, thereby making the top half float in air. The whole system is a miniature version of Maglev Trains which heavily rely on magnetic suspension.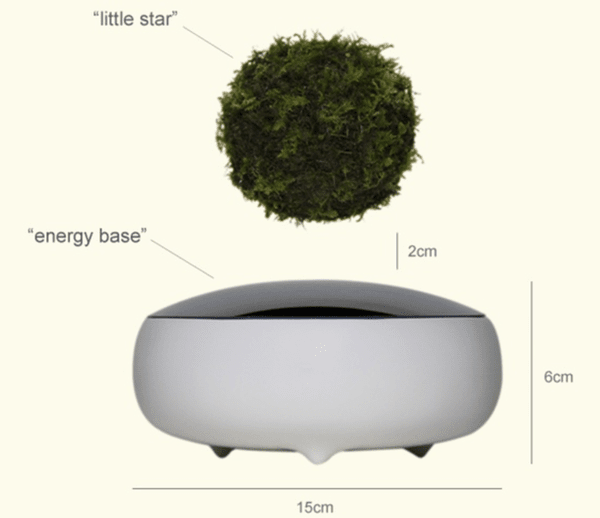 Air Bonsai System
​
The Air Bonsai boasts of an unassembled do-it-yourself kit. The mossy "little star" can withstand transplantation of any Bonsai tree on it. It is also stuffed with a sponge and a built-in magnet. Weighing only 300 grams, it provides balance to the integrated system. Like any other tree, Bonsais too need to be watered from time to time. Powered by another built-in magnet, it sports a rotating mechanism too. The porcelain of the base is made of traditional Japanese "Imari".
Priced at a minimum of $200, the DYI kit is right now a part of a Kickstarter campaign, with the goal of raising $80,000 to uplift their project. Major drawbacks of this new innovation are its high price and need of constant electric support. However, the world is definitely eager to welcome a new endeavour towards implementation of physics in home decoration. If you want to support the project or want to grab one for yourselves, you can simply go to their website and place an order.
Watch Air Bonsai in action here:
Source:
Hoshinchu
|
Kickstarter Project
Posted in:
#Startups & Business