From the Archives
Archived discussions on CrazyEngineers
@Ankita Katdare • 13 Sep, 2013
The Indian Ministry of Railways has brought a sweet surprise for the India's train passenger. Now Windows 8 OS enabled device users can book train tickets on the go using the newly launched IRCTC app. Not just book tickets, users of the app are now able to do pretty much everything from their smartphones or tablets - be it checking the status of their PNR, checking booking and cancellation history or even checking the ticket availability. Launched in collaboration of the Ministry of Railways, the app has been developed exclusively for Windows devices (Windows 8 mobile, tablet and PC) and there's no word so far about launching the same on Android or iOS operating systems.
If you are one of those customers, who is tired of logging on to the existing online portal, you should immediately go ahead and download this app from the Microsoft's
official Windows Store
or Windows Phone Store. When it comes to IRCTC online portal, the first thing that pops up is the TATKAL ticket booking service and the problems associated with it. Unfortunately, this app is no solution to that problem. Because even though they say that the app is going to be functional during the usual service hours, but it won't be accessible from 08:00 am to 12:00 pm and from 11:30 pm to 12:30 am. It seems that this move is a decision taken to avoid excessive load on servers.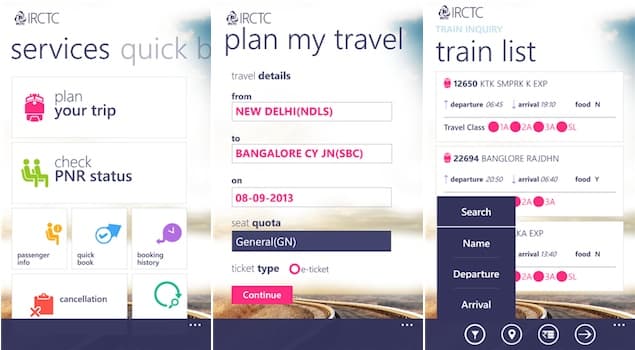 ​
So, what else are some important features of this IRCTC app. Well we have Frequent Passenger Information, Quick Booking, a list of Preferences and Favourites. Users can have access to their Recent History and get Live Notifications. Another userful feature is that of visual maps of train routes and Windows Phone live tiles lighting up as train tickets and access to saved traveler profiles from multiple devices among many others. So far, the app users are putting up really good reviews of the app.
The IRCTC app is absolutely free and "With this alternative channel of booking, the passengers will have an additional convenience and better experience of booking e-ticket," said Rakesh Tandon, CMD of IRCTC after the launch of the App. "We feel the App is ideal for the modern consumer who is always on the move. Windows is the most trusted and widely used platform and offers the requisite security required while handling vast amounts of personal and financial user data."
We are waiting for your reviews of the immensely useful app. Let us know what you're thinking through the comments below.
@Sarathkumar Chandrasekaran • 13 Sep, 2013
Its one of the best useful app in recent times. IRCTC is utilizing the full potential of communication power and I remember a post on online shopping in railway website. IRCTC - right on track.
@Ramkesh Patel • 24 Sep, 2013
But its Having problem in login when I tried to login in windows aap its says user blocked suspended, I also send mail to IRCTC but no solution.
Related Posts
Archives
@renu sharma · Aug 14, 2013
this concept comes under power diodes. can you please explain the basic difference between the two types?
Archives
@sweet_honey · Jul 31, 2012
can anyone tell how to design scissors for a blinds?? this was a question of a competitive design exam...
Archives
@Kaustubh Katdare · Mar 23, 2009
CEans, I've been searching for one for a long time now but haven't found any. If you are aware of any open source mysql data reporting tool, please let me...
Archives
@Prajakta Kelapure · Jul 7, 2014
Intrinsic and Extrinsic Semiconductors Intrinsic Semiconductors: 1. Semiconductors material in extremely pure form is called intrinsic semiconductor. 2. Free electrons and holes are generated in pairs. Thus concentration of holes...
Archives
@Ankita Katdare · May 21, 2015
Entry level segment in India is getting a brand new challenger with Renault Kwid making its grand appearance on the battlefield against the likes of Maruti Suzuki Ritz, Hyundai Eon,...