CrazyEngineers V4: Early Access
We are developing the next version of CrazyEngineers. If you wish to receive latest updates and early access, click the link below.
Home

>

Apps

>

Groups

>
Interview with Harshad Sharma, Co-Founder - Instamojo
Question asked by Guneet Khanuja in #Startups & Business on Apr 6, 2014
Instamojo Inc. is a web-based Indian startup founded by Harshad Sharma, Sampad Swain, Aditya Sengupta and Akash Gehani in the year 2012. With offices in Mumbai and Mountain View, California, Instamojo in now in its third year of operation. The startup runs a e-commerce website that helps customers sell music, photos, reports, ebooks, softwares, comic books, templates etc. online. Instamojo was selected as a part of the fifth batch of
500 Startups
in October 2012, the same year it was launched.
In an exclusive interview with Harshad Sharma, we find out the story behind the launch of Instamojo, the core values of this startup, the importance of recognition and try to get you some advice for the clueless engineers who are struggling to find their true calling. Read on!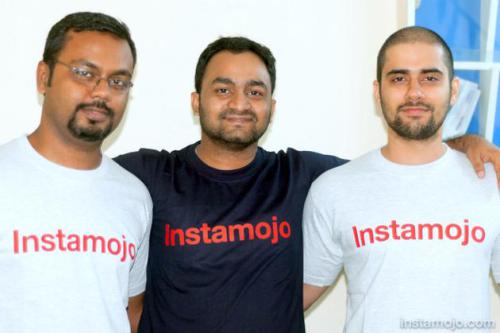 Harshad Sharma, Sampad Swain and and Akash Gehani, Founders, Instamojo
​
1. Could you please tell the readers about Instamojo?

Harshad:
Instamojo is the easiest and fastest solution if you have something interesting to sell online. You can sell your creations like ebooks, music, photos, reports or memberships and subscriptions to content or websites or even event tickets.
2. Instamojo was started by a team of 4 people. How did the team get together?

Harshad:
Sampad and Akash had worked on a previous startup, and Sampad knew me, I knew Aditya - both via Twitter. Things fell together when we expressed our interests - and decided to do something interesting together.
3. You are one amongst the 30 Best Emerging Tech Product Startups from India in 2012. How does it feel?

Harshad:
Our team is apparently very 'ah, nice' about titles and praise - there's definitely a sense of happiness and pride to have done something, but the realization that there is so much more to be done keeps us grounded. It's great to be recognized, but that also means more is expected from us, so there's no time to breathe. Get back to work!
4. According to you Instamojo means "Instant magic for online commerce". How did you come up with this name?

Harshad:
We like the challenge of coming up with domain names that aren't taken yet. The side effect of this is we've ended up with many clever domain names in each person's domain registrar's account. After we decided that pursuing the original idea was not worthwhile, we had to shift our direction drastically, so we chose a name from our wallet of domains and worked with it.
The idea was already with us, we needed a domain that was easy to remember, not too difficult to spell and already available in our possession. Instamojo suited the best, and we picked it. Yup, some stories aren't all that glamorous 😉
5. At Instamojo you strive to simplify online commerce with focus on design, delivery and distribution. What are your core values?

Harshad:
We fight for the customer. Even when making decisions about the product, whether a particular option should be shown via a dropdown or a list - everything goes through scrutiny and at times mildly heated discussions where each person's argument is simply "how does this make a customer's life easier and better". This one simple thing covers a lot of disciplines - UI, UX, API design, accessibility, USP, utility… in no particular order.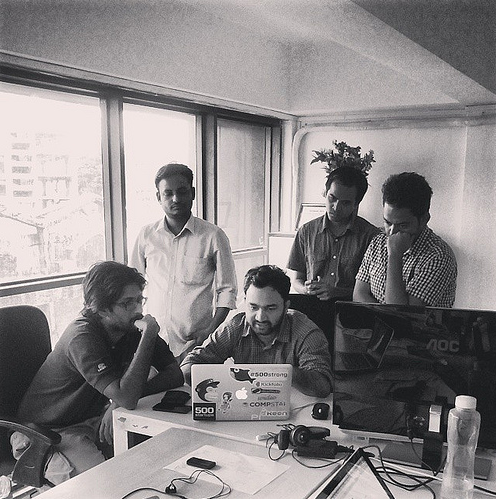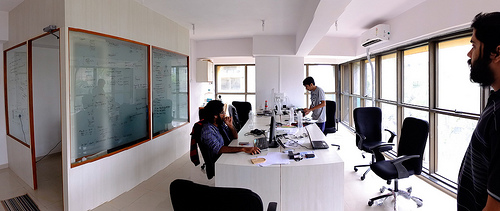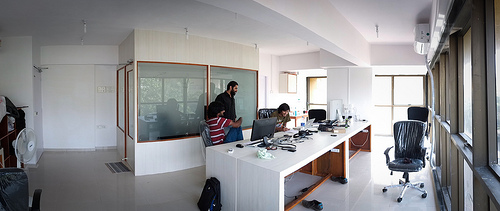 The Instamojo Office​
6. You are backed and advised by prominent angel investors and venture capital firms. What is your intended business model?

Harshad:
We have a few ideas that we're working on, the primary business model is quite simple - help people sell their products, event tickets and keep a small fee for providing the platform.
7. How many people are involved right now? What does hiring look like in the near term?

Harshad:
We're about 10 people at the moment, and we are hiring.
8. What would you most like to learn right now that would help you in the future?

Harshad:
The most important skill every entrepreneur and engineer working with a startup needs is to keep their calm when there's firefighting going on.
The second most important skill is to be able to prevent the firefighting using technology to pre-empt such situations. Third most important thing is to take the initiative and implement the checks and bounds and alert systems before hand.
Everything else is just usual business.
9.What would be your advice to engineers who are clueless about their own career and expectations from professional & personal life?

Harshad:
If someone is clueless, I'll highly recommend looking around, spending time hanging out or preferably working with professionals. That will help them make up their mind on what they might enjoy more. However, the good part is that as long as you're a fast learner, you can switch profiles or even entire career path every few years and it'll all work out fine.
The bottom-line is that you must have skills that a company needs to grow, even if it is your own company.
Pay attention to what is current hot trend and legacy technology - both ends of the spectrum will have high demands in a few years; and if you don't have the time, jump right in and learn what it takes to make things happen.
Posted in:
#Startups & Business
Just went through the Instamojo website. The interface offered to customers for setting up the page to sell their products is just awesome! 😀
Very simple setup and the payment options are easy-to-use.

I hope we can sell some CE Goodies through them.
A platform like Instamojo encourages normal people (who do not have marketing expertise) to sell their digital creations in a secure manner. The transaction fee of 5% of the total sale sounds reasonable and signing up is free.
Readers can head over
to the website
to know more.
The idea looks awesome and seems like it has immense potential as well.

Don't know why it reminded me of "craigslist USA' though the difference is quite visible that the US based website was a charity and doesn't have that a well build website.

However innovators at Instamojo has a fully planned things on their way... Good Luck boyz, Looking forward to success of Instamojo.
This -

Let us hope to make Founders Circuit larger than ever!