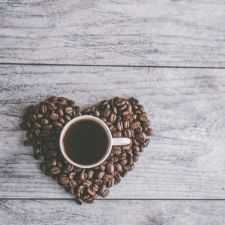 Coffee Room
Discuss anything here - everything that you wish to discuss with fellow engineers.
12915 Members
Join this group to post and comment.
Internet Explorer 10 Is More Energy Efficient Than Chrome & Firefox
If you care for energy, Microsoft has something very important message for you - 'Ditch Chrome & Firefox and switch over to IE10'. Why? Because Microsoft's latest study finds out that if everyone switched from Chrome or Firefox to IE10 on Windows 8 for about a year, the energy saved would be equivalent to powering over 10,000 households in the United States in that year. On the World Environment Day, Microsoft announced that IE10 is the most energy-efficient browser on Windows 8 - the latest operating system in the Microsoft Windows family.
Fraunhofer USA Inc. performed tests on IE10, Chrome 26 and Firefox 21 on the Windows 8 platform. The study found out that energy consumption of the machines, while performing the most common tasks like browsing popular Internet websites, playing video through Adobe Flash and HTML5 videos with IE10 was about 18% less as compared to FF & Chrome. The study observes that the energy saved would be sufficient to power 10722 households in the United States for a year. Check out following charts (clicking on images would open slideshow) -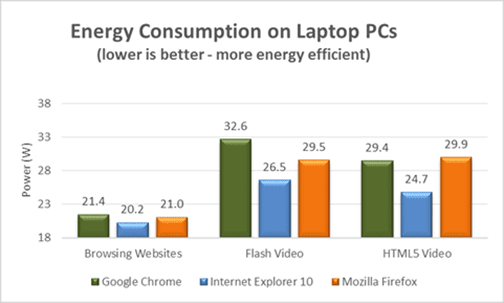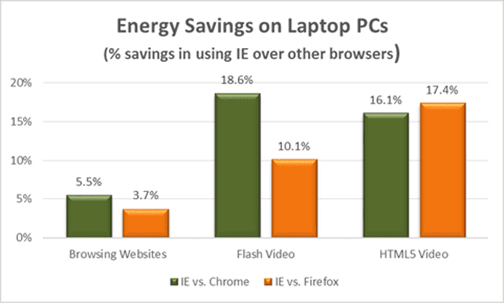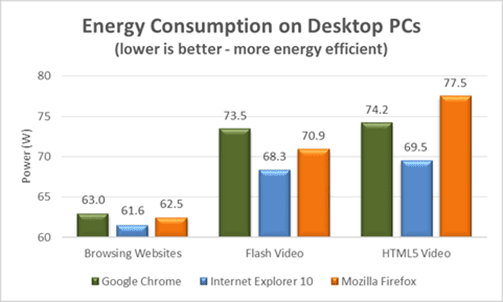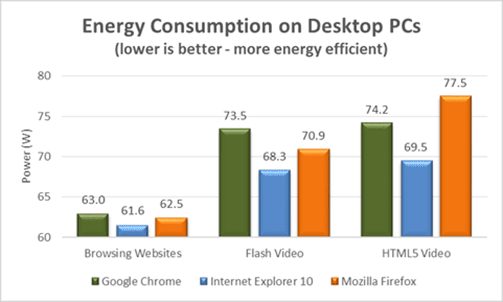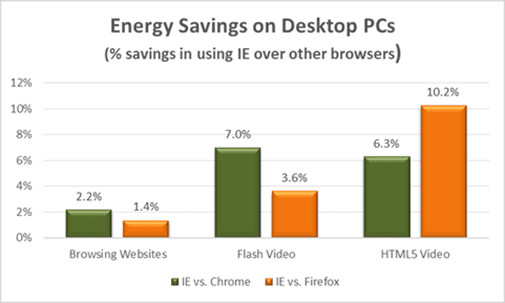 We want to ask our users their opinion on this study and whether they're switching over to IE10 as their default browser ditching Chrome or Firefox. It's very interesting to note that Microsoft hasn't done such an analysis for the first time. IE9 too beat Chrome & FF in a similar study performed back in 2011.
We look forward to your opinions & views.
Via:
Windows Blog
g
I am quite sure it's happening because IE has native support on windows machine. If they are so confident about it why not they release IE for linux and MAC.
(Because nobody will use it)😁
Save energy to waste time (JS, CSS errors, alerts etc.) - no thanks!
If Microsoft comes up with IE version faster than Chrome, then definitely people will switch to IE for sure.
Umesh Kumar Rai

If Microsoft comes up with IE version faster than Chrome, then definitely people will switch to IE for sure.
Energy efficiency doesn't ensure more speed.
As Entire world has lost trust in Internet Explorer, even though they come up with decent browser update, noone gonna use it.
I'm a little skeptical on that claim. I'd want to see more evidence before changing what I do. And until that comes in, I'll stick with my mix of chromium technology and built in downloading capabilities: Torch browser!
Well .. Joke of day.
I opened Outlook.com after years on Firfox 23 (beta) and there is popup down the page:

Nice try Steve Ballmer😁😁
Well IE lost it's glory long back and regaining something long lost not a overnight job I think Replacing FF Chrome and now Android Browser is not that easy
ianoop was exactly right..why not a release on a different platform..microsoft releases the browser,itself conduct the survey..and post result that its a best browser ever..! whats in it? it is never gonna take it position when it were ie6 or even before until a magic happens..and also the energy efficiency or less processor usage need not speed up it...its never gonna beat chrome or FF until something useful...