From the Archives
Archived discussions on CrazyEngineers
@Ankita Katdare • 25 Jun, 2014 • 1 like
If you want the benefits of a laptop and a tablet in a single device, the all new gadget from Intel called - 'Education 2 in 1' might just be the right choice for you. Manufactured by Elitegroup Computer Systems, the Intel Education 2 in 1 can serve as the tablet cum laptop for your child. Powered by a 1.8GHz Quad Core Intel Atom processor, the device runs on Windows 8.1 OS. The most highlighted feature of the device is its performance as a laptop and the mobility offered as a tablet. With 70 cm drop resistance and water/dust proof feature, the new device from Intel brings a rugged design appropriate for the use by students. Thanks to the reversible docking functionality, the Intel Education 2 in 1 tab brings flexibility and more creative options. Let us take a look at the tech specs sheet for the device in detail.
Packed inside the device is a 2 GB DDR3L RAM and two storage options - 32 GB eMMC or 64 GB eMMc. The 10-inch screen has a 1366 x 768 pixel resolution, a wide-viewing angle, 16:9 Active touchscreen and features 5-point touch. Along with a capacitive stylus, the 7600 mAh polymer battery ensures long-term productivity thanks to the company's claims of up to 7.8 hours of battery life as a tablet and an optional 3-plus hours of additional battery life when docked.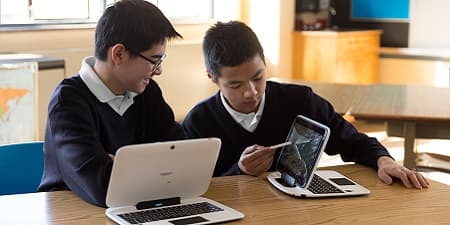 ​
The front facing camera is a 1.26 megapixel VGA one, great for making video calls and on the rear is a 5 megapixel camera with 30x magnification lens for capturing moments on the go. As far as the connectivity is concerned, the device offers Bluetooth 4.0, NFC, 3G and LTE along with 802.11a/b/g/n 2x2 WLAN, supporting WIDI. The System I/O includes - a USB 3.0 port, a microSD card slot, an audio-microphone combo jack and a micro HDMI port. Apart from these, there's Accelerometer (G-sensor), Ambient Light sensor, E-compass, Gyroscope and GPS (optional) as well as Integrated audio, stereo speaker, and a digital microphone.
Apart from the usual Windows 8.1 apps, users of this device get in-built Intel Education Software and Education Resources, as well as the McAfee AntiVirus Plus solution.
Along with the Education 2 in 1 tablet, Intel India has also introduced the
Classmate PC
and
Intel ECS TR10CD1 tablet.
The Classmate PC features 10-inch display, runs Windows 8.1, Windows 7 , or Linux. Whereas, the Intel ECS TR10CD1 is a 10.1 inch Android 4.2-based tablet, powered by 1.2GHz dual-core Intel Atom Z2520 processor along with 1GB/2GB of RAM.
What are your thoughts on the new convertible PC offered by Intel in the form of Education 2 in 1? Do you like its features? The price and availability or release date still remains unknown, but we will share those details as soon as they are out. Till then, let us know your comments in replies below.
Source:
Intel Education 2 in 1
Related Posts
Archives
@Kaustubh Katdare · Dec 2, 2014
It's that time of the year when smartphone enthusiasts wait for the teasers and announcements of the upcoming phones from the electronics majors around the world. Samsung, the South Korean...
Archives
@kanaga durga.s · Sep 12, 2016
Will you give a simple analog communication related projects? As am a starter,I need simple communication projects to do with.
Archives
@Kaustubh Katdare · Jan 23, 2008
CEans, One of my friends forwarded few questions asked by Google to candidates in interviews. I'm not sure if Google really asked these questions, but I thought it would be...
Archives
@Manish Goyal · Aug 12, 2012
Anyone knows about any api provided by Indian Railway through which i can get train paths and their current locations?
Archives
can any one share their experience of attending the placement drive of "PAYODA TECHNOLOGIES"...I have googled it but could not find any Aptitude questions not even its Selection Procedures...if anybody...