From the Archives
Archived discussions on CrazyEngineers
@Chaitanya Kukde • 05 Sep, 2014 • 2 likes
Moving fast in an attempt to catch up with the tablet-specialist ARM processors, Intel has launched the first of the Core M (codenamed Broadwell-Y) range of processors. This announcement came at the IFA event in Berlin, a show for consumer electronics and home appliances. Along with this, a host of devices featuring the Core M processor were also announced at the IFA. This range of processors is tailor-made for 2 in 1 devices, i.e. the devices which combine a tablet and a laptop.
Hoping that this processor will be the first of a family of processors that will transform the way mobile computing devices operate, Intel tested the processor against the processor of an average 4 year old PC and found that the Core M doubled the battery life of the device, which is Intel's biggest generation-over-generation battery life improvement. The Core M computes twice as fast and performs graphics computations upto seven times faster than a processor present in an average 4 year old PC.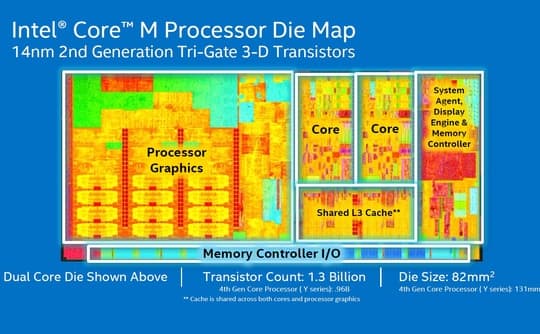 ​
Intel also claimed that the Core M achieved a 1.5x compute performance and a 1.4x graphic performance when compared to a 4th Generation i5 processor. The battery life improved by 20% or 1.7 hours when compared to the previous generation Intel Core processor. The Core M can handle more than 8 hours of video play.
Again comparing to the previous generation, the new processor has a 50 percent less package size and gives off 60 percent lower heat. It operates at 4.5 Watts, whereas the 4th Gen Intel Core operates at 11.5 Watts. This could allow OEMs to design and produce sleek, fanless systems less than 9 mm thin. The devices that could feature the Intel Core M processor are:
Acer Aspire Switch 12 - Available in Q4
Asus Zenbook UX305 - Available Fall 2014 in Europe for €599
Dell Latitude 13 7000 (Dell's first commercial 2 in 1 device)
HP ENVY x2 - 2 new models
Lenovo ThinkPad Helix - Available October 2014
Toshiba (Product Name Unknown) - First half of 2015
The Core M versions will start from the 2.0 GHz Intel Core M-5Y10/5Y10a processors and the highest performing (and the last in the series) will be the 2.6 GHz Intel Core M-5Y70 processor which will also be equipped with Intel vPro technology for business 2 in 1s with built-in security features to help protect data, user identities and network access. Other features in the Core M series will be support for HQ audio, support for Intel Wireless Display 5.0, Intel's second-generation 802.11ac products and the series will evolve to support wireless docking with WiGig from Intel.
Source:
Intel Newsroom
Related Posts
Archives
@Sudhanshu Bhatt · Jan 2, 2014
Hi, I am Sudhanshu Bhatt, done my engineering in 2013 with IT branch, now I am working for a multinational IT company as Test Engineer in PUNE, but I am...
Archives
@Kaustubh Katdare · Jun 12, 2014
India's ambitious Mars Orbiter Mission is currently on track and the Indian Space Research Organisation (ISRO) has announced that the second Trajectory Correction Maneuver aka TCM-2 has been successfully performed....
Archives
@Ankita Katdare · Dec 19, 2013
Happy Auto is a new Android application launched by Bangalore City Police in India under the 'Sugama Savari' campaign to keep a check on Auto Rickshaw drivers so that they...
Archives
@Kaustubh Katdare · Jan 9, 2013
We've a collection of mini-project ideas for electrical engineering students. Pick up the idea of your choice and expand on it. Feel free to ask questions, start discussions about any...
Archives
@m.vivekanandan · Apr 13, 2012
why are we not using starters for small bulbs while we use it for tube lights???im intersted in knowing basics of electrical engg....